Two people were killed on Tuesday when they were electrocuted by a downed lamp post in the Saudi coastal city of Jeddah, as severe thunderstorms forced schools and universities to suspend classes in Red Sea city and Makkah.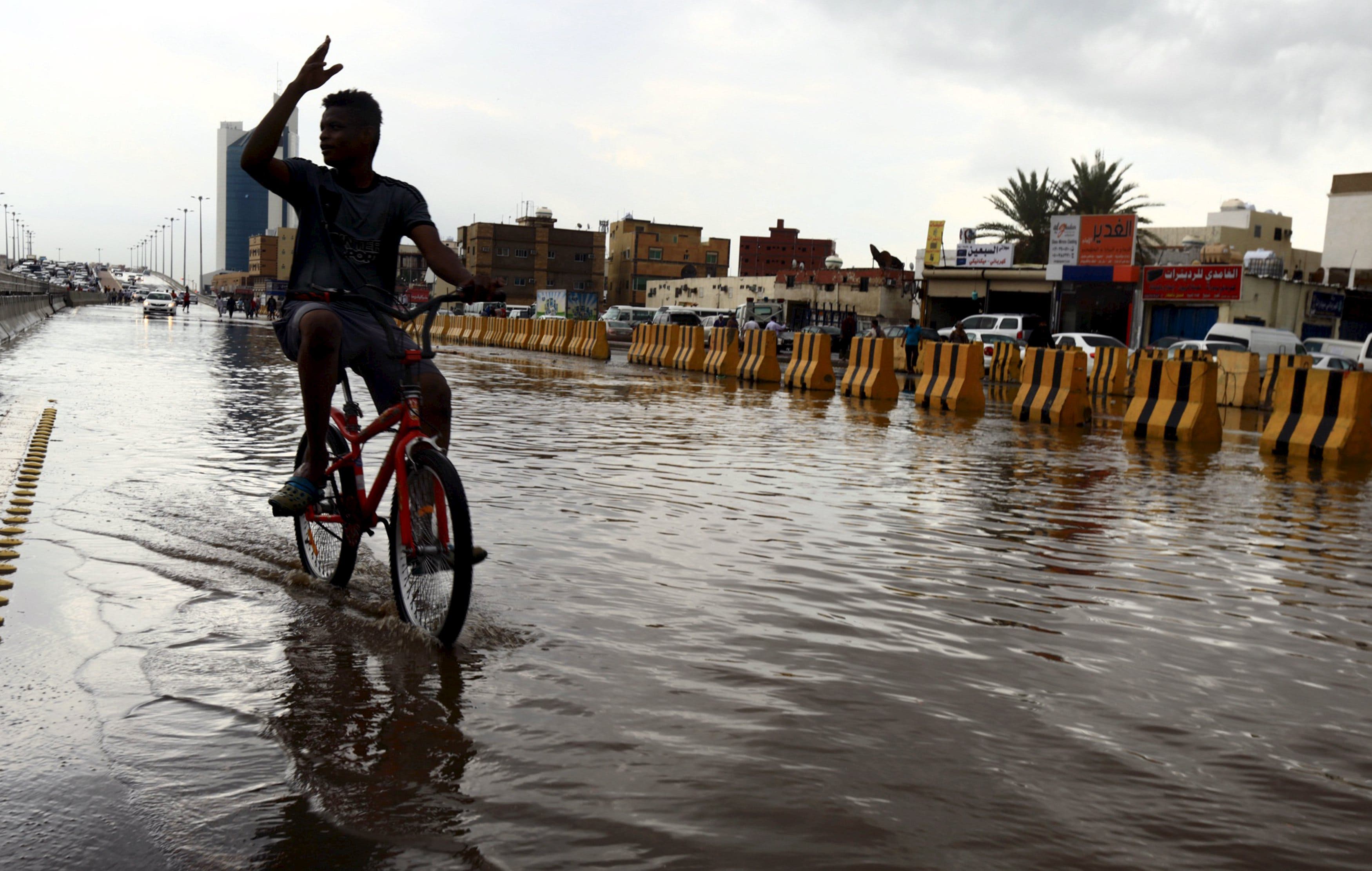 A man rides his bicycle through a flooded street following heavy rain in Jeddah, Saudi Arabia November 17, 2015. (Reuters)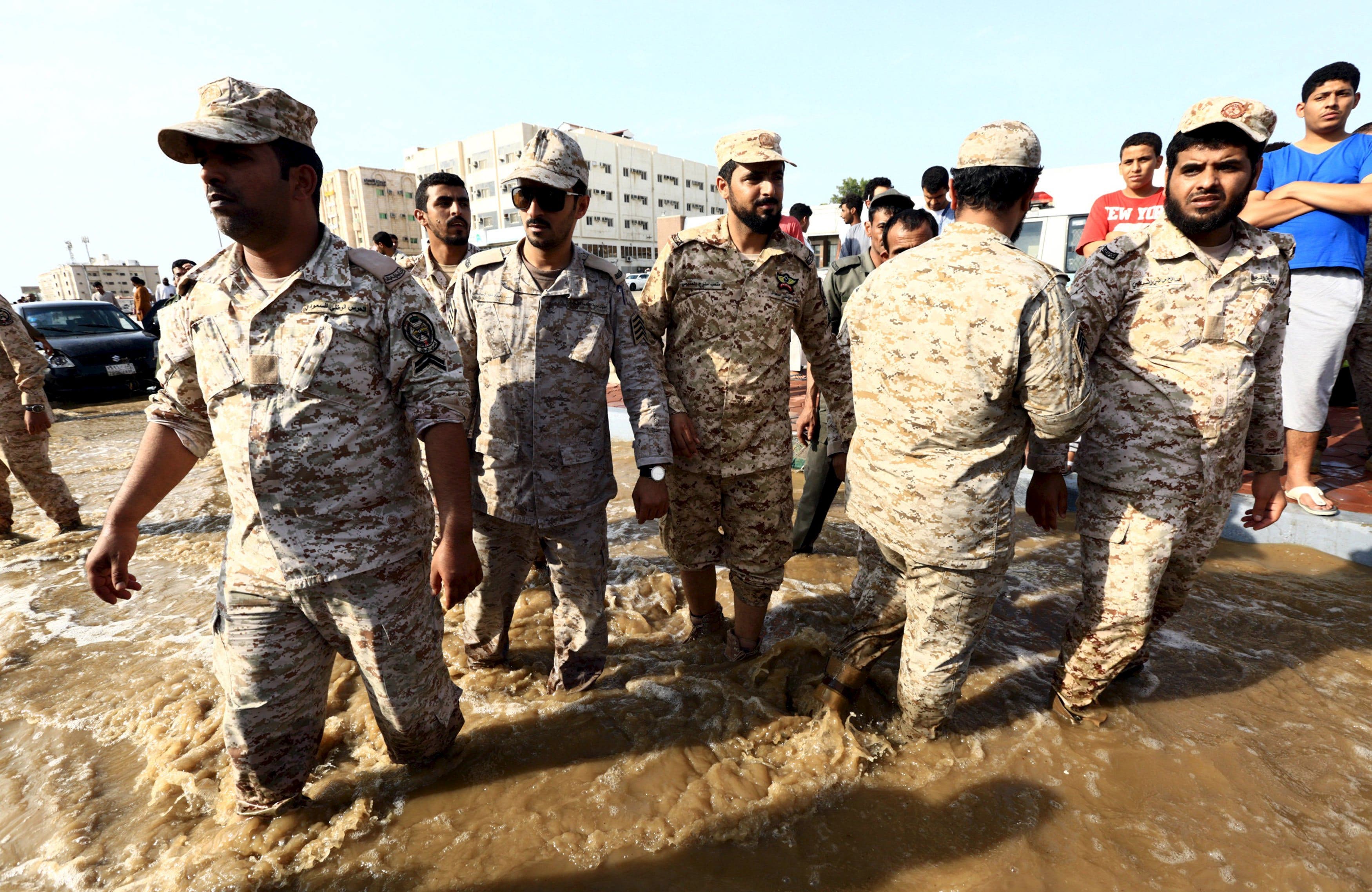 Members of Saudi security forces walk through a flooded street following heavy rain in Jeddah, Saudi Arabia November 17, 2015. (Reuters)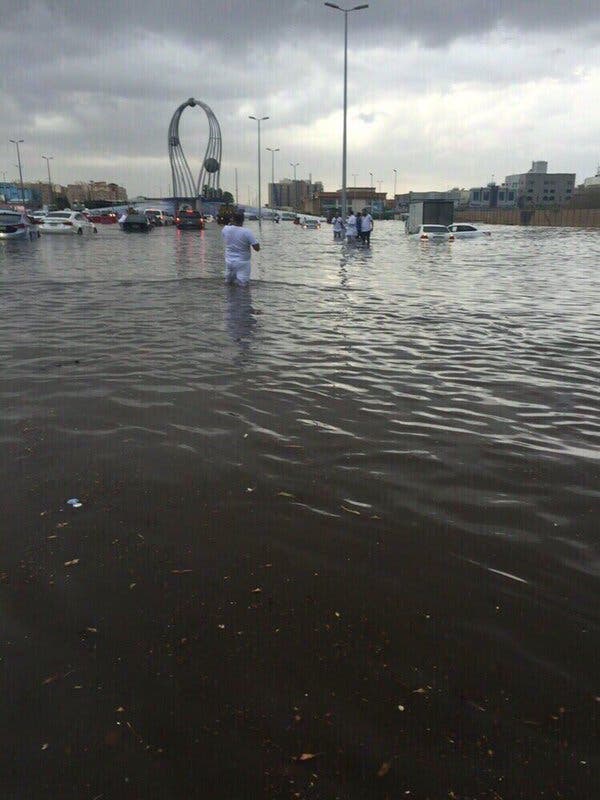 Images being shared on social media showed al-Falak roundabout, one of many Jeddah's traffic land marks, being flooded. (via Twitter)


Several districts in Jeddah suffered from flooding. Tunnels were flooded, causing intense traffic jams.

A giant billboard collapsed on Madinah road, affecting traffic movement. Several Heddah neighborhoods suffered heavy floods and blocked roads, including Salamah district, Palestine Street, Prince Majed Road, and Rawdah district.

Many people voiced their concerns on Twitter with a number of hashtags circulating on the current Jeddah floods and posting comments, recalling the 2009 flash floods which caused many casualties.

In Makkah, six accidents were reported. Abdul Aziz Badouman, spokesman of the Saudi Red Crescent Authority in Makkah, said the authority's operation room received 31 calls until 2 p.m., of which six were about accidents.

There were four collisions of vehicles at Jumum, Al-Awali, Jiarana, and Haj Street, and overturning of vehicle on Old Makkah Jeddah Road. There was also a fire incident reported from Jumum, in which there were no casualties.

Col. Talaat Mansouri, director of traffic department in Makkah, said his department had prepared a plan to tackle the situation after the forecast of heavy rain. As many as 220 traffic patrol teams along with 16 officers have been deployed as part of the precautionary measures in various parts of the holy city, he added.

Meanwhile, government schools in Jeddah will remain closed on Wednesday; it was stated by Minister of Education Assam Al-Dakhil in his twitter account. The International Indian School-Jeddah will continue remain closed on Wednesday. The admission test for students of class one for the additional seats for the current academic session, scheduled for today, has been postponed, according to IISJ sources.

This article first appeared in the Saudi Gazette on Nov. 18, 2015.
SHOW MORE
Last Update: Wednesday, 18 November 2015 KSA 10:30 - GMT 07:30