In their October 6 apartment in the Egyptian capital Cairo, Sameh Eid and his wife Ezzat Afifi say they no longer support the Muslim Brotherhood after "awakening to the truths" behind the now banned political organization.
When did you resign from the Muslim Brotherhood?
What was your rank at the time?
So you pledged allegiance then?
What about your wife?
What is your university specialty?
Do you think that if you were a Muslim Brotherhood member, you could have been more successful in the practical and professional context?
What was your role in the organization?
What were the dress codes for the Muslim Sisterhood?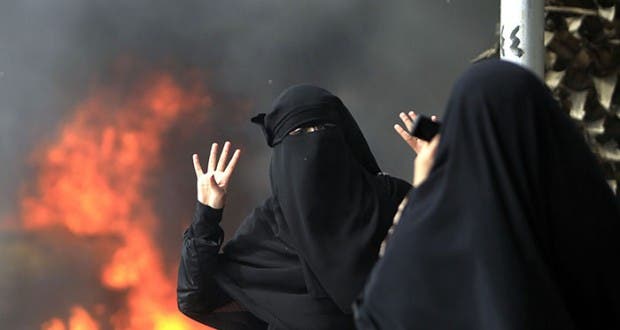 A student and supporter of the Muslim Brotherhood and ousted Egyptian President Mohamed Mursi gestures with the sign "Rabaa", or "Four", in front of a burning car during a protest inside Cairo University, in Cairo, March 9, 2014. (Reuters)
Why was the niqab forbidden?
In 2013 we saw violent confrontations at Cairo University. How can you comment on the Brotherhood's requirement for women?
What was the role of women in this demonstration?
How do you see the involvement of women in such demonstrations, despite the fact that the Islamic and religious teachings say otherwise?
What did you study during your meetings?
How was the monthly meeting?
What was your rank?
What did you recite at these meetings?
SHOW MORE
Last Update: Wednesday, 5 April 2017 KSA 00:45 - GMT 21:45