An Iranian Christian girl seeking refuge in Scotland has been speaking out about why she made a heart-breaking decision to leave her family and friends to escape persecution in her own country.
She grew up in a relative wealthy family but a perilous choice created serious challenges for her parents.
Mania Masoudi, 30, fled Iran after going to a house church in the Iranian capital, Tehran.
"I don't know how the government discovered the church but luckily I was helped by my mother's friends to escape my own country."
Working as a ceremony photographer, she became familiar with an Armenian church.
"I knowingly converted to Christianity even though I knew about the dangers," she said.
Mania believes the ruling regime forces people to believe in Islam.
"There are certain things you can't force on people", she says explaining how the Iranian government restricts people from having relationships with religious minorities.
Like hundreds of other Iranian asylum seekers who have left their families behind in Iran, Mania, a member of Easterhouse Church, is hoping to find a safe haven in Glasgow.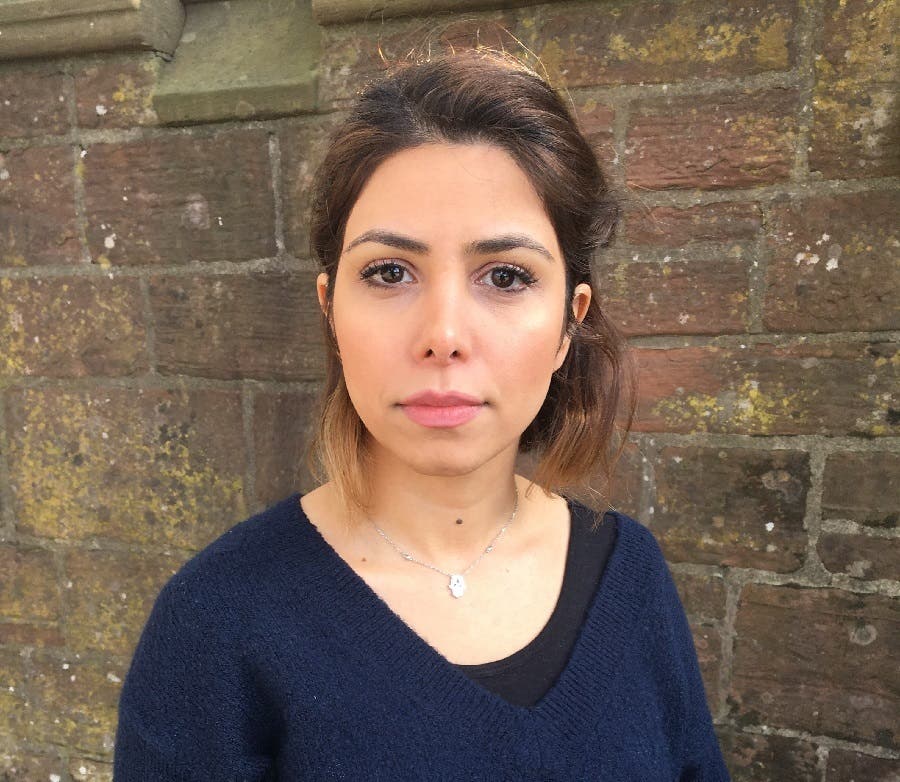 Mania arrived in Scotland in December 2015. She found herself stuck in the long asylum process, which inevitably led to her being homeless for over a year. It also left her in a state of limbo, as asylum seekers are banned from work or studying a full-time course. She said she has to survive on £5.27 a day.
This circumstance has brought Scottish MSPs' attention calling the UK government to let asylum seekers take jobs as the Scottish Cabinet Secretary for Justice Humza Yousaf criticized the Westminster believing that the immigration should be a devolved matter.
In September, The Herald Scotland reported that a prominent Scottish judge, Lord Glennie harshly criticized the immigration tribunal for disregarding evidence from churches in Glasgow.
During the interview, Mania was coy while speaking about her challenges.
"Apart from being denied an identity, I always felt embarrassed for having to live off my friends", she said as her expression showed that she did not expect such difficulties after escaping state persecution in Iran.
Had Mania been arrested in Iran, she would have faced a harsh prison sentence and ill-treatment as sexual assault is common in the Iranian regime prisons. This is even if she had repented because as she explains "the authorities don't believe converts like me. We are considered an enemy of the state".
A history of religious discrimination
Amnesty International reported in August that "four Christian converts have been sentenced to between five and 15 years in prison. They have been targeted solely for peacefully practicing their Christian faith. The authorities have cited peaceful activities as 'illegal church activities' which 'threaten national security' in order to justify their convictions."
This is not the first time that Iran's judiciary imprisoned family members of political and religious activists or relatives of journalists who work abroad to advance its goals.
"My father was arrested, tortured and sentenced to two years (in prison) for helping his daughter", Mania said holding back tears as her hands trembled.
In Tehran, another Christian convert, Ebrahim Firouzi has been in jail since March 2013 on numerous charges including "actions against national security, being present at an illegal gathering and collusion with foreign entities".
Along with dozens of other political prisoners, Mr Firouzi went on hunger strike for about 40 days last year, which lead to a deterioration in his health.
His elderly mother recently released a video clip saying "I have not seen my son for a year".
Meanwhile, British authorities say they found nine suspected migrants from Iran after they landed on a coast in southeastern England.
The Home Office said the group landed Sunday at Folkstone, near the town of Dover, on an inflatable boat. It said they will be "processed in line with immigration rules."
The BBC reported that a member of the public found them "clambering up rocks" on the coast.
Border officials reported other incidents involving Iranian migrants on the Dover coast in recent days.
On Wednesday, coast guard crews picked up three boats carrying more than 20 migrants from Iran, including a woman and a toddler. And on Tuesday, 14 men and three minors on a fishing boat, also from Iran, were stopped at Dover Harbor.
SHOW MORE
Last Update: Monday, 19 November 2018 KSA 12:34 - GMT 09:34