India's upcoming general elections, scheduled in early 2019, is likely to witness intense campaigns by Prime Minister Narendra Modi-led Bharatiya Janata Party (BJP) battling hard to retain power.
With Modi's popularity graph on the wane and his party suffering severe electoral reverses in three key Indian states in the just-held state polls, the BJP appears to be working on a plan to make cows the key poll agenda after Ram temple to woo the majority Hindu voters.
Hindus treat cows with respect and term them as "mother" and hence the BJP believes the idea could pay rich dividends if properly appropriated.
ALSO READ: India voters hoof out cow minister in state elections
The party's subtle plan came to the fore recently when governor of the state of Jharkhand, Draupadi Murmu, assured a gathering that she would urge chief minister to set up a medical insurance scheme for cows.
According to her, this will be in sync with government-sponsored "Ayushman Bharat" — National Health Protection Scheme which aims to provide a defined benefit health cover of Rs500,000 to each poor family per year. She also assured she would request the chief minister to declare cow as "Rashtra Mata" (national mother).
Cow insurance
Murmu, who has been appointed by the BJP, gave these assurances while addressing a gathering of representatives of 27 cowsheds in the state last week during which the State Cowshed Union even announced donation of Rs 5 million to the state government to create fund for the insurance scheme.
"Cow is the biggest asset for farmers. It is a major source of earning for many people who are dependent on it for livelihood…I appeal to the people not to abandon the cow in her old age," the governor was quoted as saying by English daily Hindustan Times.
ALSO READ: An Indian minister is offering cows as rewards to top boxers
Experts say the first issue has the potential to polarize huge Hindu votes as the idea, if okayed, by the government will prompt the farmers and cattle breeders to apply for health benefits which could come as a major support and boost up their economy.
At present, poor villagers have been battling hard to save their cattle from diseases and other problems owing to lack of any financial support from the government. As a result, old and sick cattle are either abandoned by the villagers on the streets or sold for meat.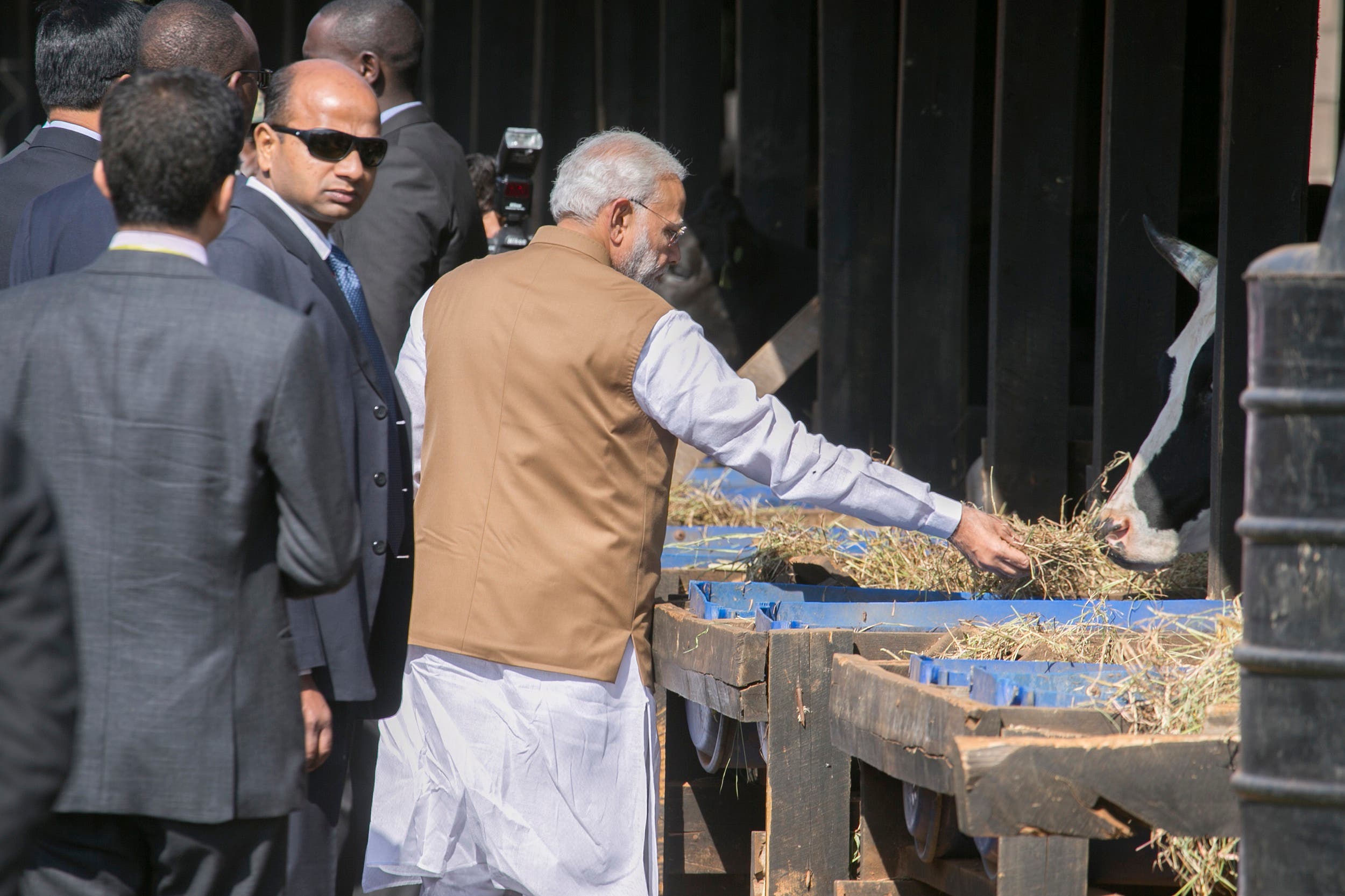 Prime Minister Modi feeds a cow as he visits the residents of Rweru in Bugesera District of Rwanda on July 24 ,2014. Modi gifted some cows to residents of Mweru, to support President Paul Kagame's initiative to reduce poverty and childhood malnutrition in Rwanda. (AP)
Mob lynching
Incidentally, Jharkhand is one of the BJP-ruled Indian states, which has reported a number of mob lynching by the cow vigilante groups in recent months. It all began in March 2016 when two Muslim traders were badly beaten before being hanged from a tree in Latehar district.
The victims were taking their cattle for sale to nearby village fair when they were caught by the cow vigilantes and lynched thereafter, sparking nationwide protests. This was followed by another mob lynching in which four cattle traders were killed in Saraikela-Kharsawan district in May 2017.
ALSO READ: Indian ruling party's cow obsession angering farmers in key province
In June the same year, another Muslim trader was lynched by the mob in Ramgarh district for allegedly transporting beef.
In September the same year, a mob set ablaze houses of three Muslim villagers on the allegations that they had slaughtered cows during Eid in Giridih district while in June this year, mob lynched two Muslim cattle traders in Godda district. Given this situation, the issue of cow could further heat up the already surcharged political situation in the eastern region.
More worries
According to political experts, the loss of three Hindi heartland states to the Congress is not the lone worry for the BJP.
The political churning has also begun in Bihar and Uttar Pradesh – the two key eastern Indian states, which alone account for a total of 120 Lok Sabha seats. In the last 2014 LS polls, the BJP-led National Democratic Alliance (NDA) had swept these two states winning 102 out of total 120 seats – it won 71 out of total 80 seats in UP and 31 out of total 40 seats in Bihar.
But the situation is not so easy this time. With allies ditching the NDA, it looks a really uphill task for the BJP to repeat the past performance. What must be the reason for worry for the saffron party is that the secular parties, which fought elections alone last time are now joining the opposition Grand Alliance (GA) to give a strong fight o the BJP.
VIDEO: Cow-based products gaining popularity in India
Right now, the Congress, Rashtriya Janata Dal (RJD), Rashtriya Lok Samata Party (RLSP), Hindustani Awam Morcha (HAM) and Loktantrik Janata Dal (LJD) have already joined the GA while Left parties also have announced to join the opposition coalition. If that happened, the NDA is bound to suffer setbacks.
Of them, RJD headed by Lalu Prasad, holds considerable support base among the 15 percent Muslim and 14 percent Yadav communities while the RLSP led by former federal minister Upendra Kushwaha claims to have the support of 8 percent Kushwaha voters.
HAM, which is headed by former chief minister Jitan Ram Manjhi, enjoys his support among Dalits whereas the Congress has the traditional support base.
Neighboring state
Similar fortification is going on for the BJP in the neighboring state of Uttar Pradesh (UP) which it conquered in the 2014 LS polls and then in 2017 state assembly elections. That happened because the secular parties had contested alone on both these occasions. However, that's not going to happen this time this time around.
As per reports in the media, the Grand Alliance in UP is also ready with Samajwadi Party (SP) of Akhilesh Singh Yadav, Bahujan Samaj Party (BSP) of Ms. Mayawati and Rashtriya Lok Dal (RLD) of Chaudhary Ajit Singh.
ALSO READ: Nobody moove! cow causes chaos at Indian airport
However, the Congress has not been given proper representation in the GA. Accrding to reports, the three parties have almost finalized their seats although the Congress has still not lost hope.
If the rumor mills are to be believed, the agreed formula is 39-37-2 which means 39 seats for the BSP, 37 for SP and two for the RLD while the remaining two seats – Amethi and Rae Bareli – have been left for the Congress.
It is said that the Congress is being kept at bay under a "tactical game plan" to divide upper caste voters who are the vote bank of both the Congress and the BJP. This has not been announced though and it will be interesting to see how the Congress reacts.
SHOW MORE
Last Update: Sunday, 23 December 2018 KSA 17:28 - GMT 14:28