An unsubstantiated story which alleged that a "Halal" sex shop would soon open in the Muslim holy city of Makkah has gone viral in recent days. But, the story has been labelled as fabricated after being propagated via an Arabic-language Moroccan website which seems to have deliberately used a sensational – yet slightly misleading - headline.

In a story dated April 12, 2015, Moroccan news website Alyaoum24 carried a story with the headline "Moroccan intends to open a Halal sex shop in Makkah."

The story, which was partly rewritten using a separate interview that Moroccan businessman Abdelaziz Aouragh - who owns a sex products business - gave AFP, says that Aouragh is "willing to open a sex shop in Makkah;" a statement which doesn't correlate with what the story headline suggests.

However, the story only gained momentum ten days later, when British daily The Independent claimed that the sex shop will actually open in Makkah and attributed the inaccurate information to Alyaoum24, which has not published a clarification or corrected its misleading headline as of the time this article was published.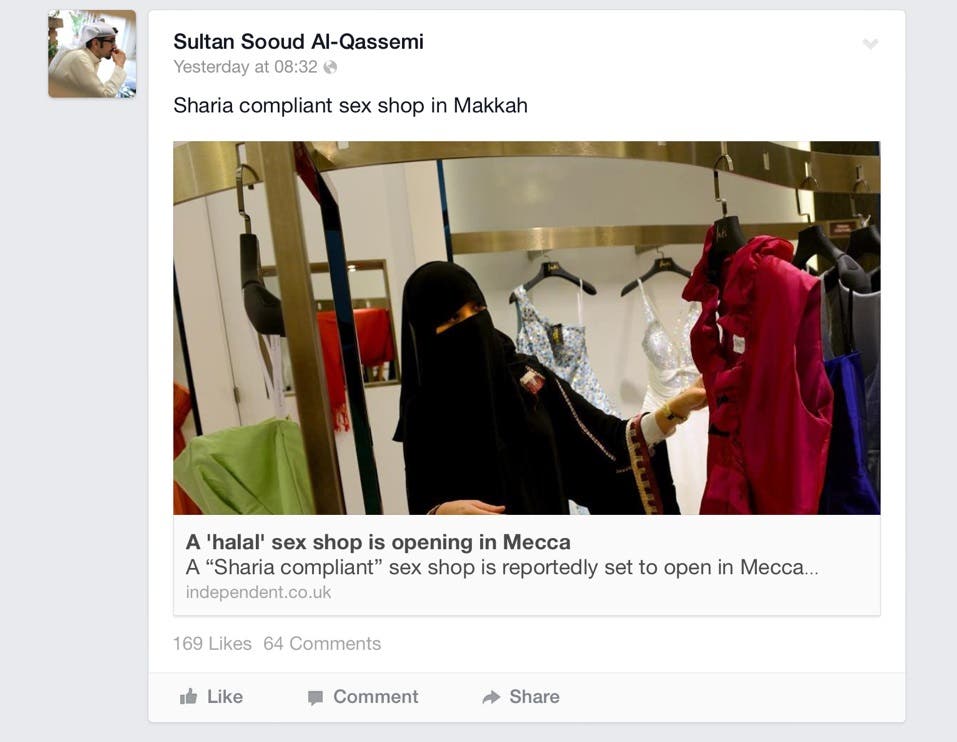 Many arab bloggers retweeted or shared the story without verifying its content. (Photo courtesy: Facebook)
Just because some guy _wants_ to open a halal sex store in Mecca doesn't mean he _will_ or even _can_ open it. #ProTip

— Ahmed Al Omran (@ahmed) April 23, 2015
"Guy says he wants to do something" is not a story. Many people say they want do stuff. Hell, I wanted to work out this morning. Guess what?

— Ahmed Al Omran (@ahmed) April 23, 2015
SHOW MORE
Last Update: Friday, 24 April 2015 KSA 16:24 - GMT 13:24