TOPICS
VOLODYMYR ZELENSKIY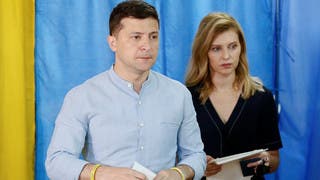 Monday, 22 July 2019
Ukrainian President Volodymyr Zelenskiy's party took a commanding lead in Sunday's snap parliamentary election, consolidating the power of the novice politician whose stunning rise has upended traditional politics in the war-scarred nation. A former comedian who played a fictional schoolteacher-turned-president in a popular TV series, the 41-year-old Zelenskiy has tapped into widespread voter anger over corruption and low living standards in one of Europe's poorest countries. ...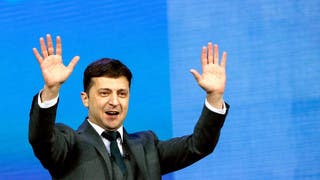 Sunday, 21 April 2019
Ukrainian comedian Volodymyr Zelenskiy has won the second round of a presidential election against incumbent Petro Poroshenko by a landslide, a national exit poll showed on Sunday. The poll said Zelenskiy had won 73 percent of the vote and that Poroshenko had won just 25 percent of the vote.Zelenskiy, 41, got twice as many votes as Poroshenko in the first round vote three weeks ago. Like his sitcom character, a teacher thrust into the presidency after a video of him blasting ...