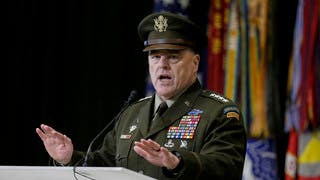 Tuesday, 7 January 2020
An official US letter informing Iraq that American troops would begin pulling out was "genuine" but not intended to be sent at this time, Pentagon Joint Chiefs Chairman Mark Milley said Monday. "This was a mistake from McKenzie," Milley told reporters, referring to US Central Command commander General Frank McKenzie. "It shouldn't have been sent," Milley said. A letter sent Monday to the Iraqi government from a commander in Iraq said troops would be ...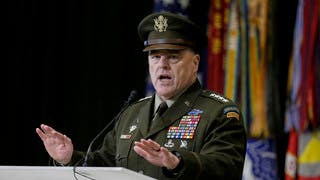 Wednesday, 11 December 2019
The Pentagon is considering several options to reduce the number of troops in Afghanistan, including one that would shift to a narrower counterterrorism mission, the top US military officer told Congress on Wednesday. General Mark Milley, chairman of the Joint Chiefs of Staff, did not disclose any potential troop totals, but he agreed that leaving a minimal US footprint in Afghanistan to battle terrorists is a potential move. "We have multiple options, that's one of them," he ...