TOPICS
MOHAMMED BIN RASHID AL-MAKTOUM SOLAR PARK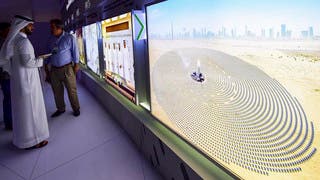 Saturday, 3 November 2018
Dubai's water and power utility DEWA said on Saturday it had agreed to increase the amount of electricity it would purchase from a solar park being built by a consortium led by Saudi Arabia's ACWA Power. As a result of the increased purchases by DEWA, the park's capacity would increase from 950 megawatts (MW) to 700 MW, the Dubai government said in a statement. "Following the amendment, the total investment for the ambitious project has reached ...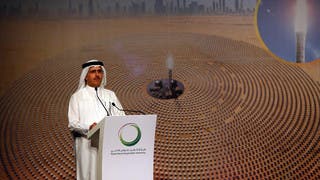 Monday, 20 March 2017
Dubai on Monday completed a solar plant big enough to power 50,000 homes as part of a plan to generate three-quarters of its energy from renewables by 2050.The 200 megawatt plant sprawls over 4.5 square kilometers (1.73 square miles) of desert and includes some 2.3 million photovoltaic panels.It is the second phase of the Mohammed bin Rashid Al-Maktoum Solar Park, which is set to pump out a total of 1,000 megawatts by 2020, the Dubai Electricity and Water Authority said.The $326 million (300 ...