TOPICS
2022 FIFA WORLD CUP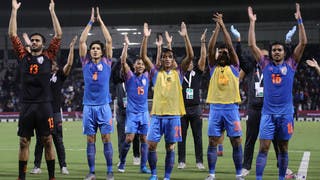 Wednesday, 11 September 2019
Qatar were held to a 0-0 home draw by India in the FIFA World Cup 2022 qualifier at the Jassim bin Hamad Stadium on Wednesday. Qatar dominated the game but couldn't score, with Indian goalkeeper Gurpreet Singh Sandhu the star of the game. Qatar had 27 shots against India's two. Croatian manager Igor Stimac will be pleased how India's defense weathered Qatar's attacking pressure, having conceded two goals in eight minutes in their previous fixture against Oman. The Indian ...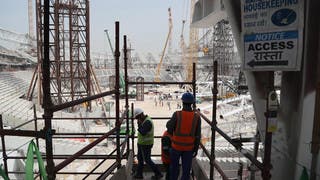 Wednesday, 26 September 2018
A new investigation by Amnesty International has exposed how an engineering company involved in building 2022 FIFA World Cup infrastructure took advantage of Qatar's notorious sponsorship system to exploit scores of migrant workers. The company, Mercury MENA, failed to pay its workers thousands of dollars in wages and work benefits, leaving them stranded and penniless in Qatar. The organization is calling for the Qatari government to ensure former employees of Mercury MENA receive the ...