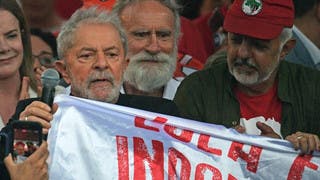 Saturday, 9 November 2019
Brazil's leftist icon Luiz Inacio Lula da Silva vowed Friday to "continue fighting" for ordinary Brazilians, moments after he walked free from jail following a court ruling that could release thousands of convicts. Lula also promised to "show the lying side of the federal police," as he addressed hundreds of supporters outside the jail in the southern city of Curitiba where he was held for a year and a half. Earlier, a judge authorized the release of jailed ...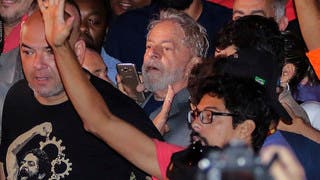 Monday, 9 April 2018
Former Brazilian President Luiz Inacio Lula da Silva woke up in jail Sunday, becoming the first current or former president in Brazil's modern history to be incarcerated amid an ongoing saga that has added a measure of unpredictability to the country's upcoming presidential elections.Foreshadowing possible unrest in the weeks to come, about 500 supporters remained outside of the jail hours after police shot rubber bullets and sprayed tear gas to disperse the crowd.The Workers' ...