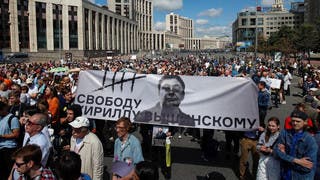 Sunday, 16 June 2019
Several hundred protesters gathered in Moscow on Sunday in a small, government-authorized rally supporting investigative journalist Ivan Golunov and decrying abuse of power over his five-day arrest this month on drug charges. The 36-year-old reporter, known for exposing corruption among Moscow officials, was freed following an outcry by supporters who said he was framed by corrupt police. Journalists critical of Russian authorities have led a dangerous existence since the 1990s - sometimes ...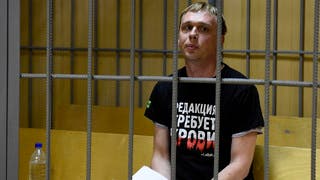 Sunday, 9 June 2019
A prominent Russian investigative reporter who was detained on drug-dealing charges has been released to house arrest in a case that has raised widespread alarm among journalists. Ivan Golunov was taken to a Moscow court late Saturday after undergoing medical examination that was initiated when he complained of feeling poorly in police custody. He left the courtroom after the ruling to place him under house arrest until August 7. In the court hearing, he denied being involved with drugs and said ...