TOPICS
SRI LANKA ELECTIONS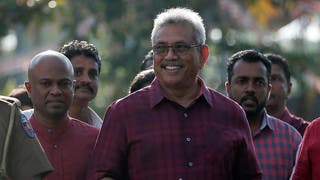 Sunday, 17 November 2019
Sri Lanka's former wartime defence secretary Gotabaya Rajapaksa has won the presidency with a clear majority, his spokesman told AFP on Sunday, a day after the polls. "We got between 53 to 54 percent (of the vote)," Keheliya Rambukwella said as official results showed the 70-year-old heading to victory in Saturday's fiercely contested election. Rajapaksa, the main opposition candidate, was leading with 52.87 percent while housing minister Sajith Premadasa had 39.67 ...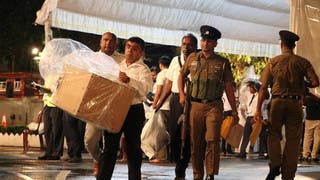 Saturday, 16 November 2019
Polls have closed in Sri Lanka where elections were held on Saturday for a new president of the tourism-dependent island nation still struggling to recover from the Easter Sunday militant attacks which killed more than 250 people. A convoy of buses carrying Muslim voters was shot at just before the polls opened in Anuradhapura district in central Sri Lanka, police said. There were no injuries but witnesses said burning tires were used to block roads. Election commission ...