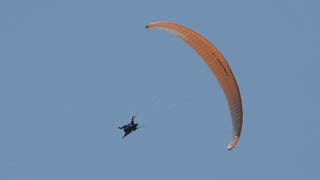 Thursday, 1 August 2019
YouTube star Grant Thompson, who rose to fame as host of the popular channel "The King of Random," has died in a paragliding accident, his family announced. Authorities said the 38-year-old, who had 11 million subscribers on his channel and billions of views, was reported missing after he didn't return on Monday from a paragliding trip in Utah. A GPS device that he had on him was used to locate his body late Tuesday. The Washington County Sheriff's office said in a ...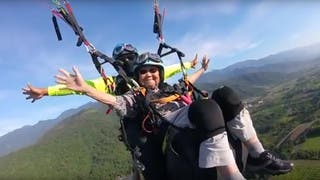 Friday, 10 August 2018
Chin Wu Jui-lin became the oldest person to paraglide in Taiwan at 93-years-old on Wednesday, proving that age is just a number. Jui-lin was cool, calm and collected, quite literally gliding through the air, and very elegantly waving her hands as she enjoyed the view 1000 meters from above the ground. "I wasn't scared at all. This was actually my second time paragliding, and if I'm still able to when I'm 100, I'll do it again!" said Jui-lin. The paragliding ...