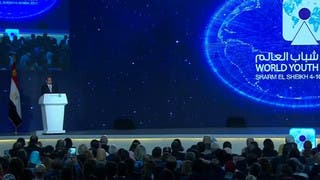 Friday, 10 November 2017
President of Egypt Abdel Fattah al-Sisi honored the youth for their contributions to the World Youth Form at the closing ceremony of its sessions, Thursday, in Sharm El Sheikh. The event which is sponsored by the Egyptian President to help boost the younger generations' ideas and counter extremist and terrorism ideologies drew, in numbers, 233,000 applicants, 1 million Facebook followers, 3,200 attendees from 64 countries as well as 222 speakers. Over 1000 volunteers, 2000 engineers and ...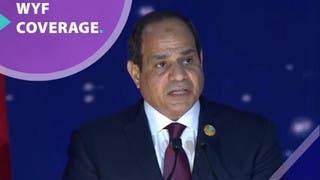 Monday, 6 November 2017
Arab and and international figures kickstarted the "World Youth Forum" at Egypt's touristic destination Sharm El-Sheikh on Sunday. The forum sponsored by the President of Egypt, Abdel Fattah Al-Sisi, aims at exchanging expertise in various fields, through discussing topics of the youth's local and global issues, spreading the spirit of peace as well as fight terrorism. The opening session featured speeches by President Al-Sisi, Achim Steiner, UN ambassador, Academy Award ...