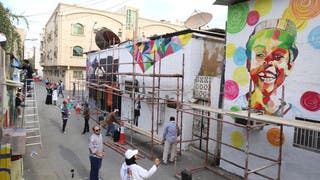 Tuesday, 6 March 2018
Saudi artists have transformed an area filled with traditional houses into a giant canvas. Using graffiti techniques, 21 male and female artists have adorned the old buildings in Khobar, eastern Saudi Arabia. The "Bayoniya" neighborhood was selected because it meets the requirements for the project, in terms of format and the outcome we're expecting, artist Madawy al-Baz told Al Arabiya.net. The project solely created by Saudi hands is the first-of-its-kind in Saudi Arabia, ...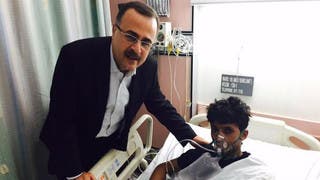 Sunday, 30 August 2015
Saudi Aramco chief Amin al-Nasser paid a visit on Sunday to those hospitalized after a deadly fire broke out in a building leased by the company in Saudi Arabia's eastern city of Khobar. In pictures posted on the company's official Twitter page, the acting president and CEO is shown talking to the injured. The Saudi Civil Defense said 11 people were killed in the fire while 219 were injured. "Acting President Amin al-Nasser with Abdullah al-Hazemi, one of the civil defense men ...