Every time I look at this picture, I am surprised, as though this picture was not taken in North Yemen, as though the people in it were not Yemenis… I edge my face closer still to the computer screen and gaze into the black-and-white photo of a group of students from Sana'a University, the first university in North Yemen. The photo was taken in 1970 with male and female students standing side by side and smiling for the camera.
Yemen as it once was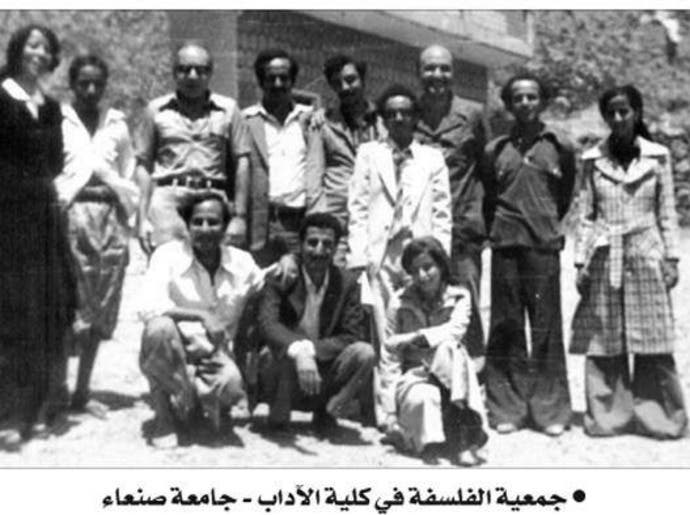 Male and female students from the college of philosophy at Sana'a University in 1970. (Photo courtesy: Sana'a University)
Let us take a short trip back in time. Women in North Yemen wore the Turkish cloth, a garment composed of two pieces, one worn over the head and the other like a long and broad skirt, and both were black. Countrywomen wore beautiful traditional Yemeni garments and colors that differed according to each region. I am here referring to North Yemen rather than South Yemen, which was greatly influenced by the British colonial rule.
Extremism and sectarian intolerance rose. Yemen changed as extremist Islamist institutes were established to teach a new generation that opted for death even before getting to know life.

Hind Aleryani
Following the 1962 revolution and the arrival of Egyptian culture, North Yemen changed. Women recount the arrival of the first batch of "women's socks made in Egypt." Girls-only schools were established for the first time. One sees old pictures from that period, especially those of women in Taiz where the first school was established, and cannot help but be surprised as it would be hard to find anyone dressed like that nowadays. One is surprised by how easily society back then adapted to such change.
The end of the renaissance
SHOW MORE
Last Update: Sunday, 21 July 2013 KSA 08:17 - GMT 05:17