Along the road to Hebron there are many grapevines, as this part of Palestine is known for the best-tasting grapes. In one of these vineyards there is a strange sight where one grapevine is fenced and there is a sign in Hebrew of the name of this tree's owner. Behind this sight is a story that is bizarre and amusing in a painful way.
Land-grab policies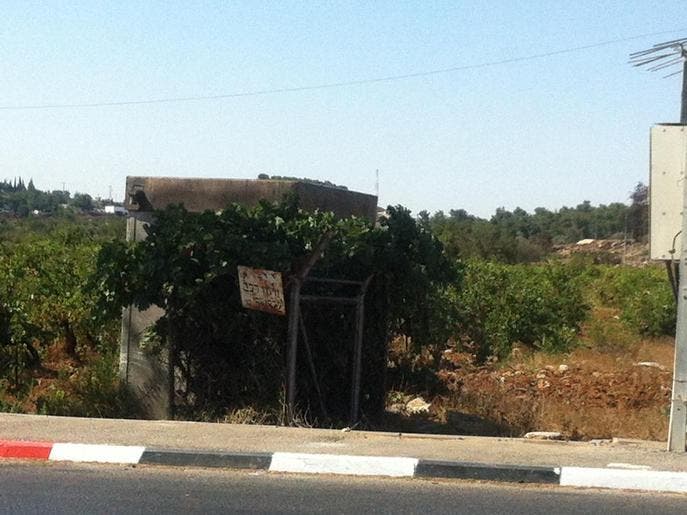 When a tree is not just a tree: A grapevine is fenced and there is a sign in Hebrew of the name of this tree's owner.
Along the streets around Jerusalem and Hebron, shacks can be seen and next to them is a police post. They are situated on Palestinian properties that are about to become Israeli settlements. The process is for individual settlers to build haphazard homes on Palestinian lands. Of course their presence and their infuriating actions disturb the Palestinians who would get into frictions with them, so then came Israeli police posts to "protect" the innocent settlers from the "violent" Palestinians. A few more months and years down the road, the temporary shacks have become permanent homes and a completely developed modern settlement community.
Legal responsibilities shunned
The apartheid wall that snakes around the city is in strategically planned line to continue redrawing the municipal borders of Jerusalem.

Maha Akeel
Israel remains in belligerent occupation of the territories it dominated since the June 1967 war. Consequently, the Fourth Geneva Convention and other provisions of International Humanitarian Law apply to these territories. This includes East Jerusalem which, despite Israeli attempts to annex the city as part of Israel, retains its status as occupied territory. The EU recently took a strong stance on Israeli settlements by formally having its member states differentiate between Israel and the territories occupied by Israel in 1967 and to refrain from any official dealings with Israeli institutions in these occupied areas.
SHOW MORE
Last Update: Sunday, 22 September 2013 KSA 07:16 - GMT 04:16