EU set to postpone decision on Turkey migrant plan
Turkey offered the EU greater help to stem a flood of migrants into Europe but raised the stakes by demanding more money
Turkey offered the European Union greater help on Monday to halt a wave of migrants into Europe in return for more money, faster membership talks and quicker visa-free travel for its citizens, but EU leaders said they needed more time to consider the plan.

Turkish Prime Minister Ahmet Davutoglu told the 28 EU leaders that Ankara was willing to take back all migrants who enter Europe from Turkey after a set date, as well as those intercepted in its territorial waters, diplomats said.

More than a million asylum seekers fleeing war and poverty in the Middle East and beyond have flooded into Europe since the start of 2015, causing huge political and humanitarian strains.

In exchange for stopping the influx, Davutoglu demanded a doubling of EU funding through 2018 to help Syrian refugees stay in Turkey and a commitment to take in one Syrian refugee directly from Turkey for each one returned from Greece's Aegean islands, according to a draft document seen by Reuters.

He also sought to bring forward visa liberalization for Turks to June from late this year and to open more negotiating chapters in Turkey's long-stalled EU accession process.

An emergency EU-Turkey summit, originally due to last half a day, was extended to give Davutoglu a chance to present the new ideas that went beyond Ankara's commitments so far.

European Commission President Jean-Claude Juncker's chief of staff said on Twitter that good progress had been made in the difficult talks and "a breakthrough during this night is possible."

However, another EU official said several leaders, taken by surprise by the initiative, were unable to agree to such far-reaching steps at such short notice, insisting on more time to consider them.

"Several countries really like the idea but cannot accept a deal tonight because of the very short preparation time. They will welcome the higher ambition but they can't nail down all the points today," the official said.

"There are some clarifications needed. We will work on it intensively in the coming days," he added.

Desperate to end the influx of Syrians, Iraqis, Afghans and others, the EU leaders sent the text back for redrafting. They were to meet Davutoglu again to discuss them over dinner, an EU official said.

"Our aim is to go further with game-changing ideas," a spokesman for Davutoglu told Reuters, describing the Turkish proposals on a full halt to movement in return for direct resettlement as a plan to "end the tragedy in the Aegean."

At a preparatory meeting with German Chancellor Angela Merkel and Dutch Prime Minister Mark Rutte on Sunday night, Davutoglu demanded more than the 3 billion euros ($3.29 billion) earmarked so far to support Syrian refugees in Turkey. One source said Ankara was seeking 20 billion euros.

Davutoglu said on arrival that the summit showed how indispensable Turkey was for Europe, and Europe for Turkey.

"Turkey is ready to be a member of the EU as well. Today I hope this summit will not just focus on irregular migration but also the Turkish accession process to the EU," he said.

Diplomats said Merkel and Rutte pressed hard for a deal on the Turkish plan but met resistance from central European states opposed to taking refugee quotas, as well as from Greece and Cyprus which have conditions for the Turkish accession talks.

The EU official said leaders were willing to bring forward visa liberalization to June provided Turkey met a string of requirements, including changing its visa policy towards Islamic states and introducing harder-to-fake biometric passports.

Several leaders voiced concern that the offer of increased cooperation coincided with a crackdown on media freedom that runs counter to European values. The Turkish government seized best-selling opposition newspaper Zaman last Friday.

EU sources said Italian Prime Minister Matteo Renzi was prepared to block any summit statement unless a reference to media freedom was included.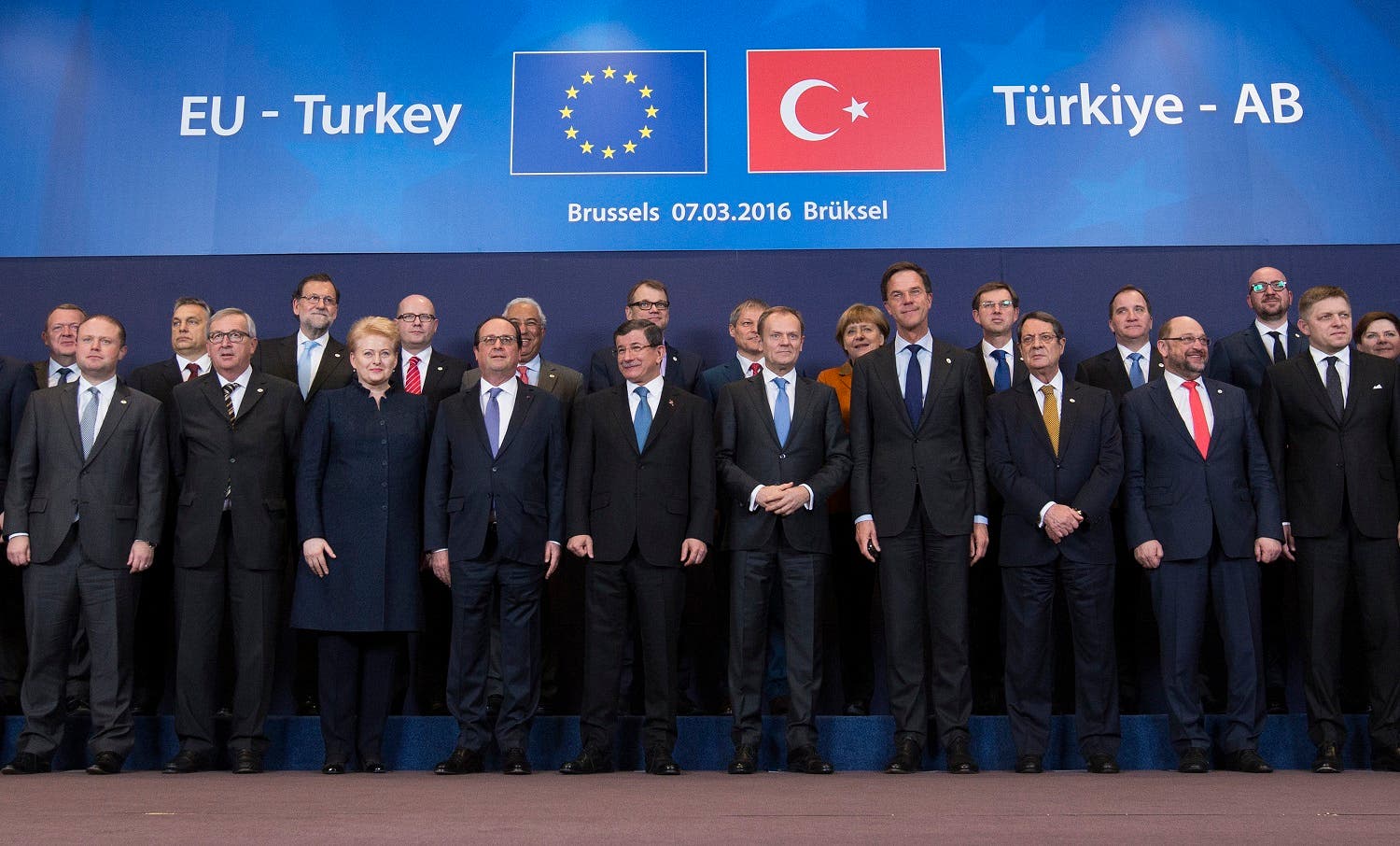 Use force?
Austrian Vice-Chancellor Reinhold Mitterlehner highlighted the tough mood in central Europe when asked whether the EU should use force to close its frontiers to migrants.

"If necessary, we must set such an example to show that a border is really a border. Naturally, we should be careful to use means that do not endanger lives," he said in an ATV interview.

The EU leaders pledged to help Greece cope with a backlog of migrants stranded on its soil and sought assurances that Turkey, with NATO naval back-up in the Aegean, would stop people smugglers from putting migrants to sea.

There were continued splits among EU leaders at the summit, with Merkel resisting pressure to endorse border closures by Austria and Greece's Balkan neighbors that have stranded over 30,000 migrants in Greece.

The German leader, who faces a possible political backlash in three regional elections on Sunday against her welcome for the refugees, insisted on the emergency summit to show voters the EU is acting to resolve the crisis.

Greek Prime Minister Alexis Tsipras said the bloc must speed up the process of relocating asylum seekers from Greece to other EU countries as promised last September. EU states have so far taken in only a few hundred of a promised 160,000 people and central European countries have rejected the whole principle.

NATO Secretary-General Jens Stoltenberg said the alliance had begun patrols in the Aegean to support efforts to locate migrant boats, overcoming territorial sensitivities in Greece and Turkey to patrol in the waters of both NATO states.

"NATO is starting activities in territorial waters today," he told a joint news conference in Brussels with Davutoglu.

"We are expanding our cooperation with the EU's border agency, Frontex, and we are expanding the number of ships in our deployment," he said, saying that France and Britain had agreed to send ships to the Aegean.

Germany is leading the NATO mission that was agreed on Feb. 11, which also includes ships from Canada, Turkey and Greece. Until now, ships had been in international waters.

Near the Greek town of Idomeni on the border with Macedonia, where 13,000 migrants are stranded in a squalid tent camp meant for 1,500, a 13-year-old boy was electrocuted trying to climb onto a goods train on Monday. He was taken to hospital in critical condition.

Husam, a 39-year-old decorator from Homs in Syria, told Reuters: "I want to beg the European leaders not to close the borders. Please let us pass. It is my only hope to provide security for my children. Please don't kill our only hope."

British Prime Minister David Cameron said he was sending a naval force to the Aegean to join German and Canadian warships in the NATO force assisting the Greek and Turkish navies.

Though Britain is outside the Schengen zone of passport-free travel and Cameron stressed it would take no part in any common EU asylum policy, further migrant chaos could damage his efforts to win a June referendum and keep Britain in the EU.
($1 = 0.9122 euros)