The Egyptian army, in coordination with the General Command of the Libyan army managed to release the 13 Egyptians, who were kidnapped by an armed criminal gang in the region of Ajdabiya, Libya.
Egypt's military spokesman, Colonel Tamer al-Rifai, asserted that they contacted the relatives of the kidnapped and finalized their deportation papers in preparation for their return to Egypt.
Al-Rifai thanked the General Command of the Libyan army for their cooperation to help put an end to the crisis.
The Egyptian Foreign Ministry warned Egyptian citizens of the risks of traveling to Libya, appealing to all the Egyptians residents there to be extremely cautious and stay away from troubled regions.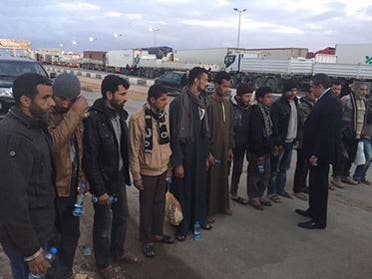 The Egyptian foreign Ministry urged its citizens not to be misled by gangs that promote travel tours, by taking them to Libya via a third country, thereby entering Libya illegally and risking detention.