Thousands of Syrians have been killed since the outbreak of an uprising in mid-March 2011 and dozens of those were murdered with clear orders from the Syrian regime, "top secret" files obtained by Al Arabiya have revealed.

Since Al Arabiya began broadcasting a series of Syria leaks last week, it was the first time on Sunday that the channel disclosed Syrian intelligence files labeled "top secret."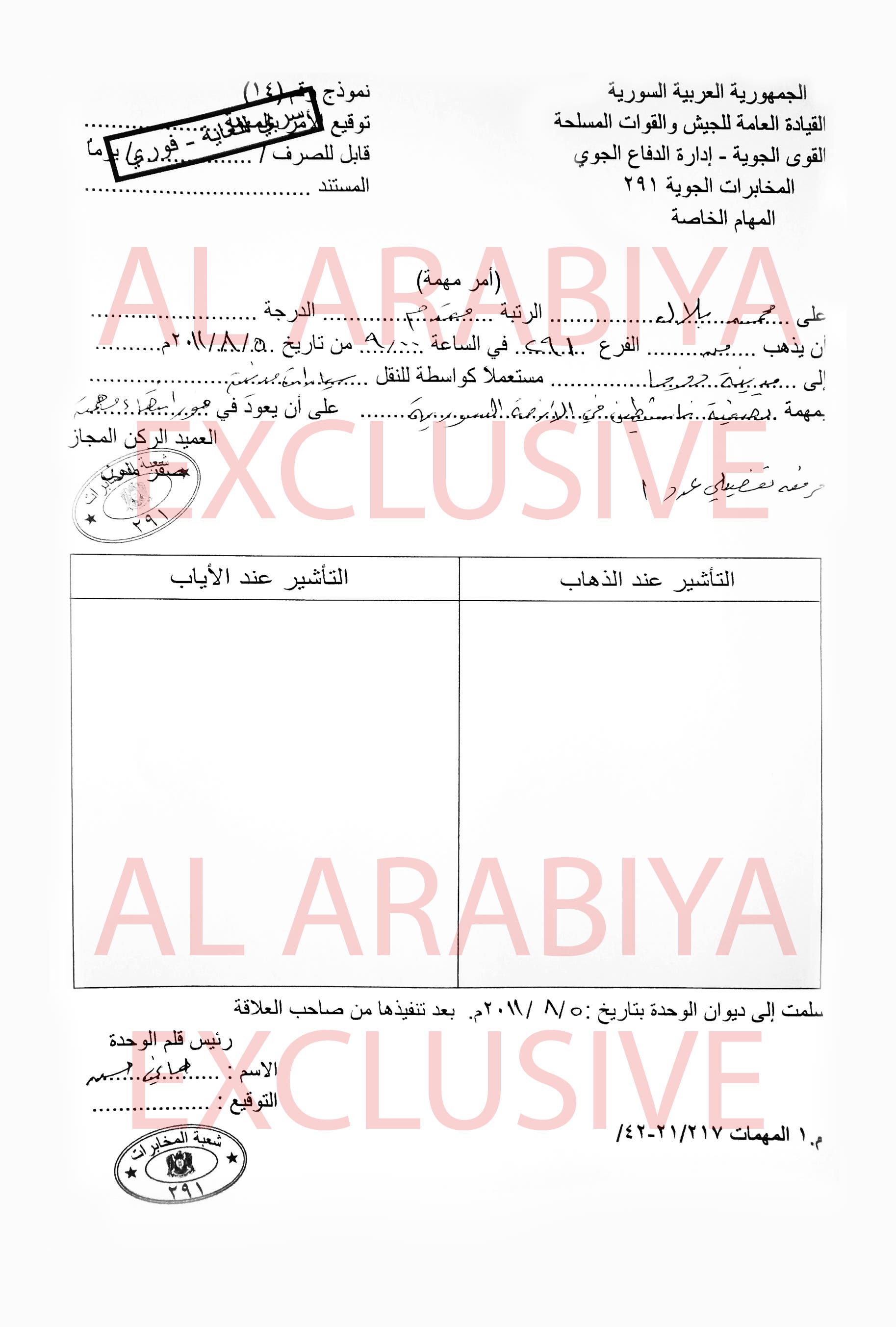 One file titled "Operational Order" was sent by the operations branch of the Syrian foreign intelligence to agent Samir Haddad to "eliminate" activists in various provinces.
Intelligence agents are often identified in documents by designated codes instead of names, and the fact that the agent's name was mentioned in the file could explain why it was labeled "top secret."
The document was dated July 29, 2011 and is believed to have played a role in the several assassinations against top activists who were behind the outbreak of last year's uprising.
Dr. Hassan Shalabi, a member of the political bureau of the Syrian National Front, told Al Arabiya, "the regime knew that there are people who are the true instigators of this revolution," but these people are not specifically identified and that is why open orders were given to the Shabbiha (thugs) militias and intelligence agents to choose and kill who they think are "instigators."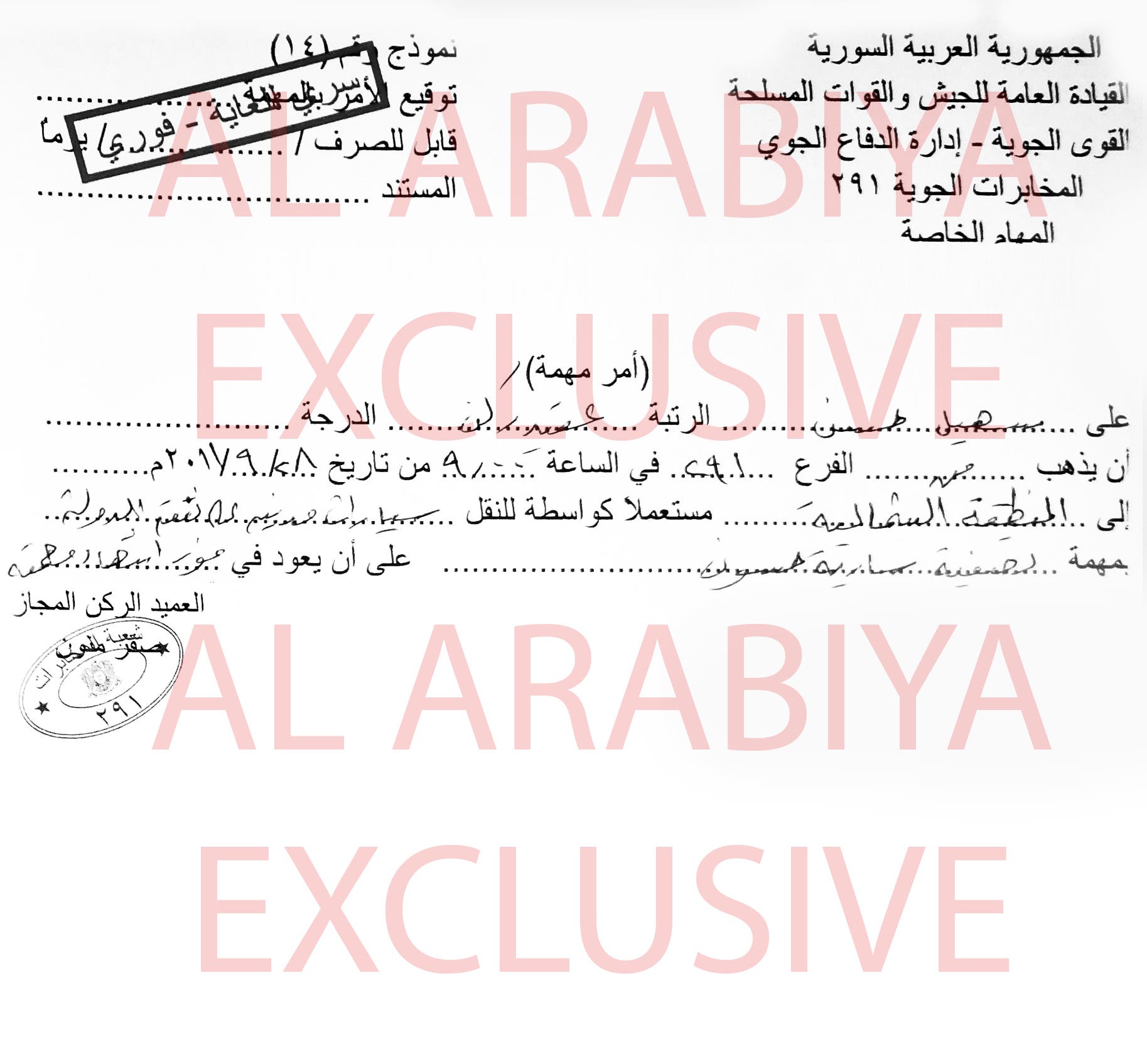 This led to the assassinations of figures that the regime would not have killed otherwise, Shalabi said.
Ghiath Matar, a young activist who offered flowers and drinking water to the regime's soldiers shortly before they detained him, was murdered in September 2011 in Daria. Matar was known for having sought hard to keep the uprising peaceful and non-violent. His assassination had a negative impact and sped up the militarization of the uprising.
Another "top secret" document dated Aug. 5, 2011 and titled "operational order" was sent to Lt. Col. Mohammed Bilal from the Syrian foreign intelligence service to go to the city of Duma on the outskirts of Damascus to "eliminate" activists there.
Dr. Shalabi said Duma was one of the earliest revolting cities in the country and had produced many activists who played a major role in spreading the uprising to other parts of the country. He said the regime was aware of Duma's danger and tried to silence it by killing its activists.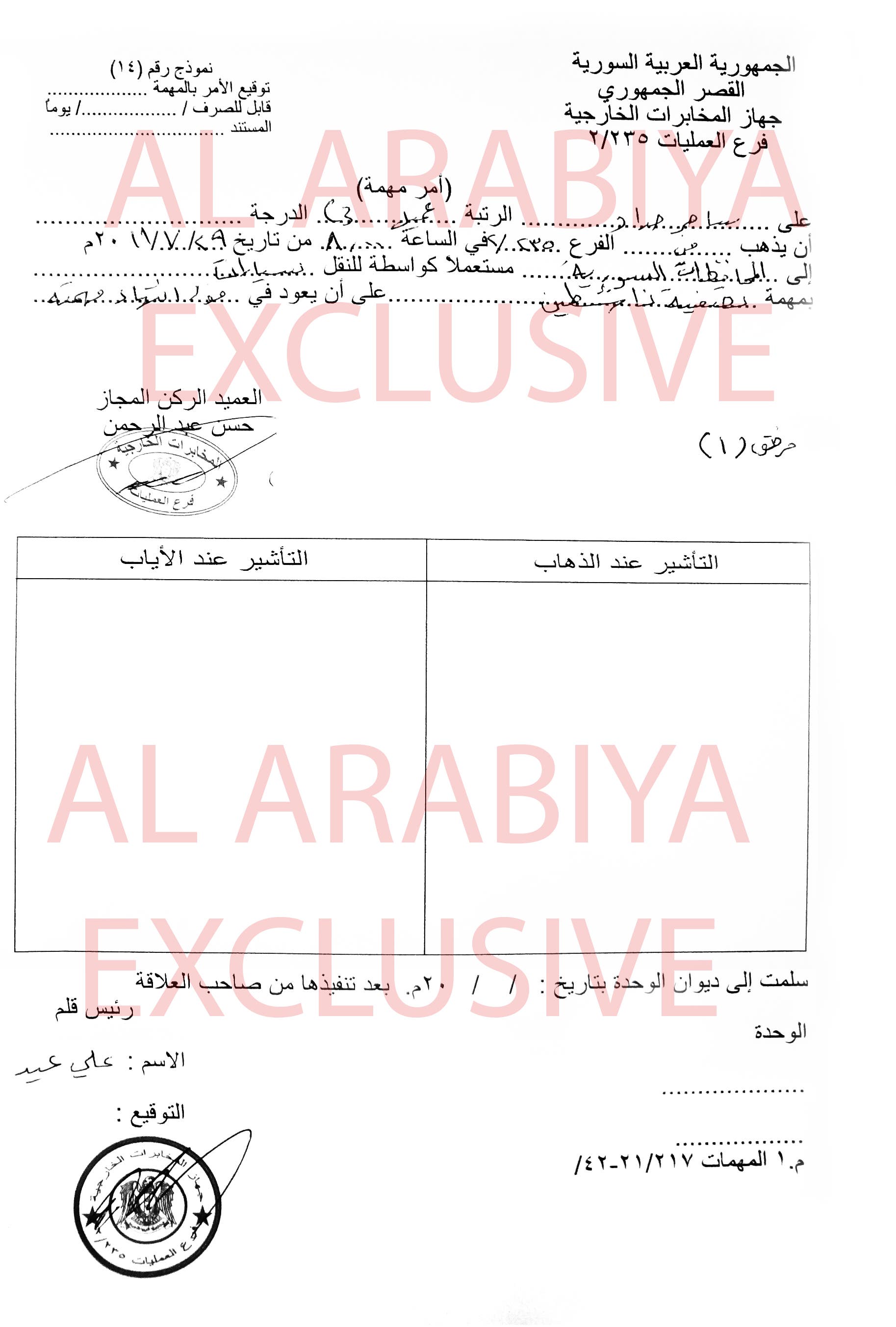 A third "operational order" -- signed by head of branch 291 of the air intelligence, special missions section, Brigadier Saqr Mannon -- was sent to Lt. Col. Suhail Hassan asking him to go "immediately and secretly to the northern region," which includes Aleppo, to murder Saria Hassoun, son of Syria's Grand Mufti, Shiekh Ahmad Badreddin Hassoun.
The order was signed on Sept. 28, 2011, and Hassoun was shot dead near Ibla University on the Idleb-Aleppo highway. Hassnoun was shot with two bullets, one to his chest and another to his stomach. He was taken to Idleb National Hospital and he died there.
The Syrian authorities immediately blamed "armed gangs" for the murder of Hassoun, whose father, the country's grand mufti, was known for his pro-regime stances. By Killing Hassoun and blaming the opposition, the regime was apparently seeking to attract people's sympathy and support and turn them against those who seek its ouster.
(The next episode of Syria Leaks will be aired on Monday, Oct. 8.)