A tower building in Dubai's Jumeirah Lakes Towers (JLT) has caught fire and was burning early Sunday morning as pieces of the building and debris were falling from the roof.

An Al Arabiya English journalist at the scene saw pieces of the building in flame falling down to the ground.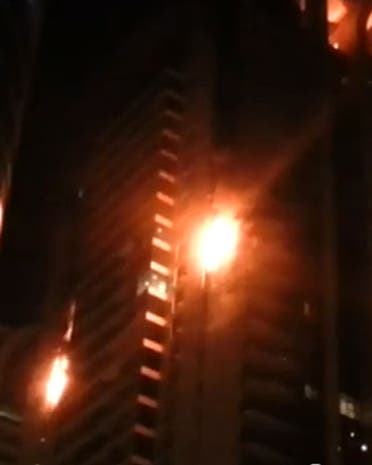 Residents of the Tamweel tower, a 34-storey-building including 160 apartments, along with others living in two nearby towers of the same cluster, were evacuated as the blaze spread from top to the floors below.
Alarm sirens woke numbers of residents in nearby towers too. Families fled their houses and parked their cars away from the building, as fire debris fell off the tower on balconies below.
Many residents remained in their cars and watched the blaze at a distance.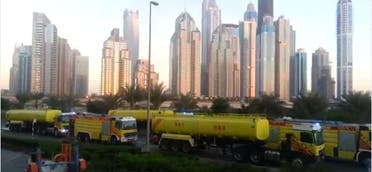 Billows of smoke were witnessed in the early hours of Sunday morning. Although the fire started at 1 a.m., a resident told a local newspaper that the fire was not doused completely until 6 a.m..
No casualties were reported, a statement from Dubai Police said, but the causes of the blaze remain to be unknown.
Police patrols and civil officials have restricted entrance to some sections of the Jumeirah Lake community Sunday morning.
Jumeirah Lake Towers is a massive development that consists of about 80 towers built or still under construction along the edges of four artificial lakes.
The blaze, however, is likely to add to calls for greater fire safety and evacuation planning in the United Arab Emirates, where hundreds of thousands of people live in high-rise buildings.
In June, hundreds of residents were evacuated safely from a 76-story tower after a fire broke out on the 36th floor. Last November, firefighters in Sharjah, north of Dubai, struggled to battle a blaze in a 25-story tower without equipment to reach the flames. The UAE is considering bans on flammable panels in high-rise buildings.