An influx of comments flooded Twitter and Facebook against Egyptian President Mohammed Mursi's administration after a deadly train accident as well as the collapse of a building in the country's Mediterranean city of Alexandria.

On Tuesday at least 19 people were killed and more than 100 injured when a train carrying military conscripts derailed southwest of Cairo. A day after, at least 23 people were killed and eleven were injured when an eight-story building collapsed in Alexandria.

Some tweeps and Facebook users blamed President Mursi especially his choice of Hisham Qaneel as the country's prime minister, Al-Ahram portal reported. Qandeel has previously faced fierce criticism with opponents calling for his resignation.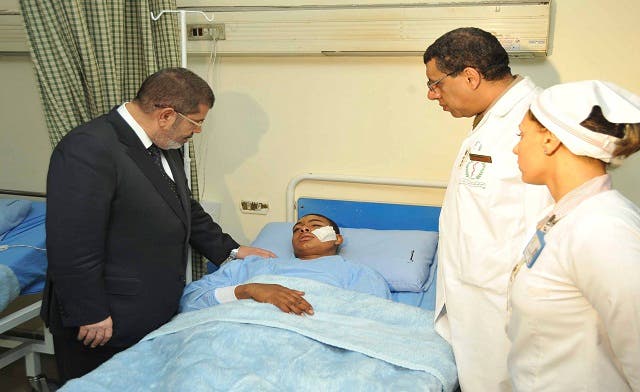 The social media users also directed a heavy attack against Qandeel when a picture of the prime minister donating blood to the train victims circulated.
"We don't want Qandeel to donate blood…we want him to have some style and resign," one concerned Egyptian said, adding "the picture of Qandeel donating blood is like the picture of Hassan Al-Prince [in reference to a figurative royal character] testing the floor while visiting a building that's about to collapse…a bad propaganda image for a responsible official who failed to perform his real obligations."
Since the start of Mursi's administration, critics accused his government with negligence as high number of train accidents and others occurred during his initial reign. Critics also derided Mursi's government for not putting any succinct plans to develop the country's infrastructure and protect the country's railways.
The critics see Mursi as inheriting corrupt public administration from the toppled Hosni Mubarak era.
"We were raised on the national anthem (we die, so Egypt can live) but now we die and Egypt doesn't live," one commentator said while another scoffed Mursi's administration when saying: "Egypt has become a big funeral house; all present their condolences to everybody else in everyone's death," adding "congratulations, the price of one Egyptian has swooped down."
The lack of security has also galvanized attention of the social media users.
"He went to the square and died, he went to watch a football match and died, he went to school and died, he joined the army and died, he stayed at home and he still died…. Oh what a country, the cheapest item is your own children's blood," one commentator said.
Turbulences including riots and clashes between politically opposed protesters hindered Egypt's security ever since the toppling of Mubarak on February, 2011.
Last year, a riot at a match between Al-Masry and visiting Al-Ahli led to 74 deaths.
"Urgent: no accident was reported in five complete minutes," one sarcastic tweep wrote, and another expressed one of his wishes as a citizen: "as an Egyptian I dream to have a normal death."