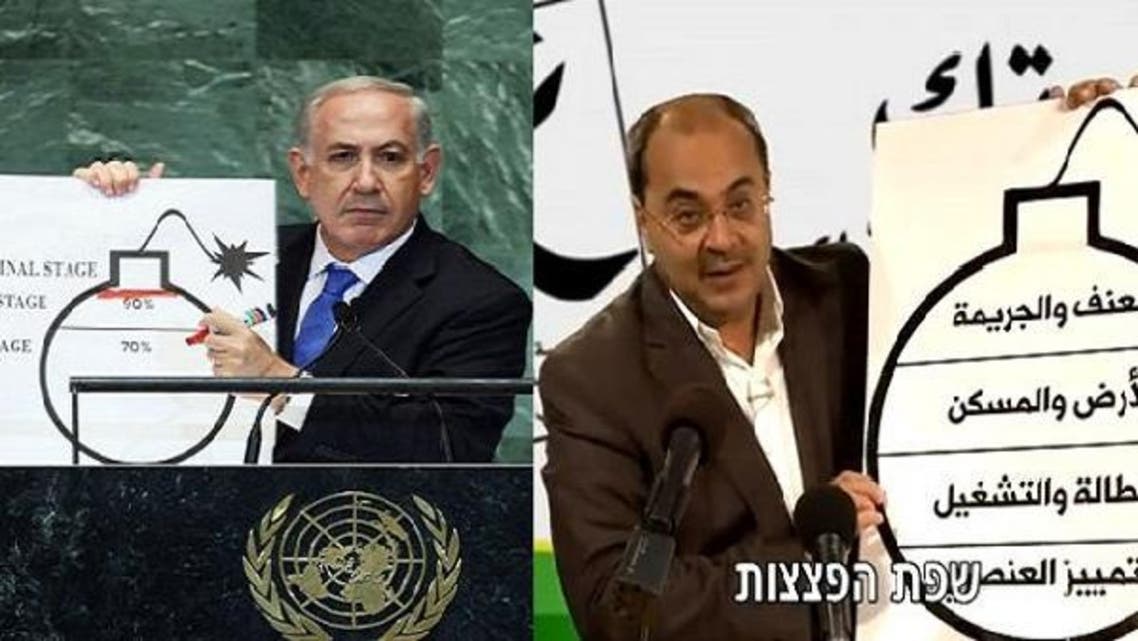 Arab-Israeli politician uses 'bomb' picture to send clear message to Netanyahu
Head of an Arab-Israeli party participating in the Jewish state's upcoming parliamentary elections has used a picture of a bomb to send a clear message to Prime Minister Benjamin Netanyahu that Arabs in the country are deprived of their basic rights as Israeli citizens.

The politician, Ahmad Tibi, leader of the Ta'al (the Arab Movement for Renewal) party, has used the same concept as Netanyahu when showcasing the bomb picture to get his message across. Late September 2012, Netanyahu used what is later known as the "Bibi bomb," in reference to his middle name, to illustrate to the U.N. General Assembly that Iran is dangerous and that the world must act quickly to stop Iran from enriching its nuclear bomb.

Just like Netanyahu brandishing a red marker and drawing his own clear red line atop a drawing of a bomb over Iran's "progress" in enriching its uranium, Tibi drew yet another red line to highlight Arab-Israelis' plight, Palestinian Maan News agency reported Saturday.

Tibi wrote inside his bomb picture what Arabs in Israel wish to see changed and reformed as Israeli citizens will go ahead and vote for the elections scheduled Tuesday.

He emphasized: unemployment, dismantling and destruction of Arab homes, not giving land lots to Arabs, discrimination, and crimes and violence directed against them.

"I will speak to him in the language that he [Netanyahu] understands and that is the language of bombs that is threatening all of us," Tibi said in the video.

The Arab Israeli politician said there are 40 discriminatory laws against Arabs in the Jewish state and that unemployment has reached up to 50 percent in Arab towns. "As for crimes and violence [against Arabs] don't even talk about it," he added.

Tibi currently serves as Deputy Speaker of the Knesset.