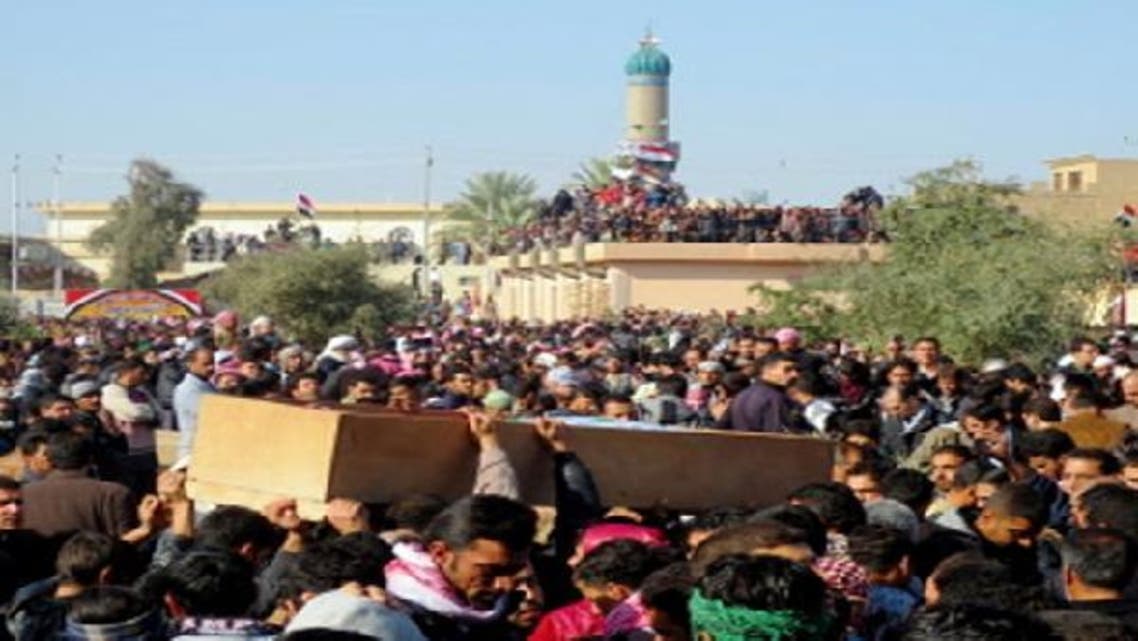 Gunmen kill two Iraqi soldiers in apparent revenge for killing of protesters
Gunmen shot dead two soldiers and snatched three more west of Baghdad on Saturday in apparent revenge attacks, as mourners buried anti-government protesters that troops shot dead a day earlier.

On Friday, Iraqi troops shot dead at least four people during clashes with Sunni Muslim protesters in Falluja in escalating unrest against Shiite Prime Minister Nuri al-Maliki.
A Reuters witness said troops initially fired in the air to disperse crowds, but then he saw some soldiers fire towards protesters who had approached their military vehicles and set one of them on fire.

Thousands of Sunnis have taken to the streets to protest against mistreatment of their minority sect since late December, increasing worries that Iraq could slide back into widespread sectarian confrontation.

Friday's violence complicates Maliki's attempts to end the protests, where demands range from amendment of terrorism laws that many Sunnis feel single them out to more radical calls for the Shiite leader to step down.

Friday's rally had been moving within Fallujah but was blocked by soldiers, police Captain Nasser Awad said.

Protesters began throwing bottles of water at the troops, who opened fire.

Seven demonstrators were killed, all of them from gunshot wounds, said Assem al-Hamdani, a doctor at Fallujah hospital.

Hamdani said 60 others were wounded, most by gunfire.

The defense ministry promised an investigation, and security responsibilities in the town were transferred to the police in an attempt to defuse tensions.

On Saturday, thousands attended the funeral of the people killed.

A demonstration followed the burials during which protesters shouted: "Listen Maliki, we are free people" and "Take your lesson from Bashar," a reference to embattled Syrian President Bashar al-Assad, whose country is in the grip of a bloody 22-month uprising.

"I will not be satisfied with compensation provided by the defence ministry," said Ali Khalaf al-Ani, whose son Omar was killed on Friday, referring to an offer for financial compensation by Baghdad.

"I want my son alive -- that is my demand!"

Maliki called for restraint by security forces in a statement issued by his office, but also said soldiers had been attacked in the first place.

"This is what al-Qaeda and terrorist groups are seeking to exploit," he said of the apparent sectarian tensions.

The premier also blamed "conspiracies" propagated by the intelligence agencies of neighboring countries, supporters of now-executed Iraqi dictator Saddam Hussein and Al-Qaeda.

The Fallujah demonstration was one of several across Sunni-majority areas of Iraq that have raged in recent weeks, hardening opposition against Maliki amid a political crisis ahead of provincial elections due in April.

In Baghdad, parliament passed a motion that would bar Maliki from a third term, a move his allies quickly dismissed as unconstitutional.

Lawmakers from the Sunni-backed Iraqiya bloc, the main Kurdish alliance and the movement loyal to powerful Shiite cleric Moqtada al-Sadr -- all of which have ministers in Maliki's national unity government -- backed the move to limit Iraq's president, prime minister, and speaker of parliament to two terms.

The move appeared to target Maliki, as the other two posts are held by members of Iraqiya and the Kurdish bloc.

The prime minister's supporters in the Council of Representatives insisted the move would be rejected by the courts, pointing to a previous ruling by Iraq's highest judicial authority that only the Cabinet can propose legislation, not parliament.