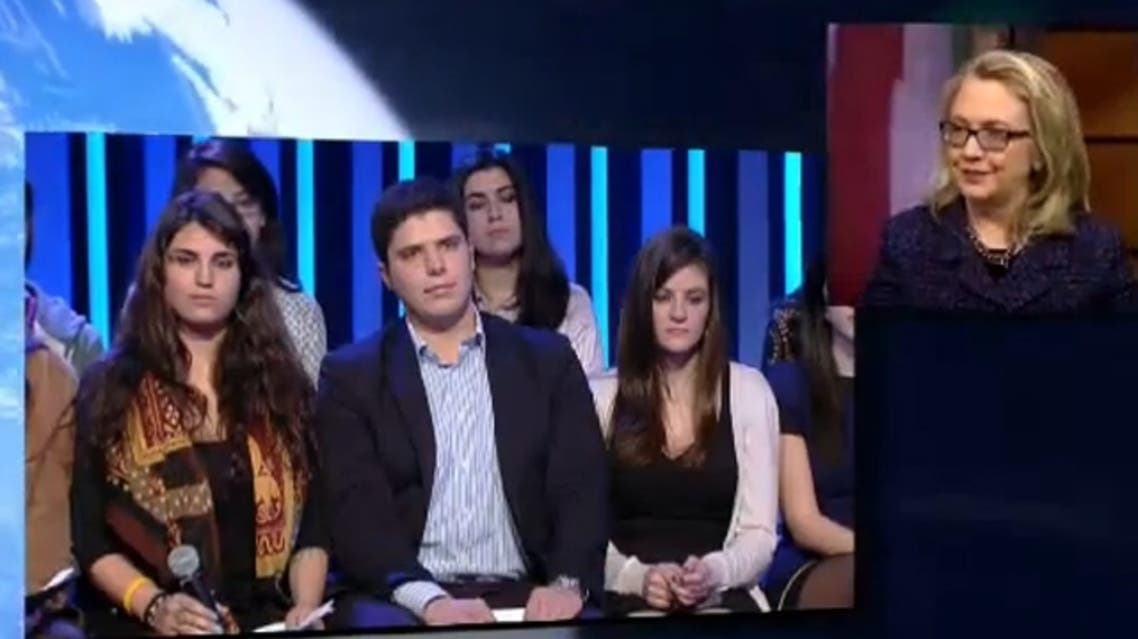 Clinton's 'unfinished Business:' peace, prosperity and women's rights in Mideast
Outgoing U.S. Secretary of State Hillary Clinton said during a Global Town Hall interview on Tuesday that there were three main targets – Peace, prosperity, and women's right in the Middle East—that she didn't manage to fully accomplish during her term.

When asked by MBC1's Muna Abu Sulayman about her "biggest unfulfilled mission in leaving the Department of State," Clinton mentioned peace, prosperity and women's rights.

"Obviously, I want to see peace in the Middle East and I want to see prosperity that includes all people, and I want to see women and girls given their rights and opportunities. So those are three of the pieces of unfinished business."
Clinton emphasized those were complex targets which require intensive effort and hard work, adding that what really was keeping up momentum until those goals are fully met.

She said the Arab revolutions carried the hopes of young people for a better life, but that those hopes need time to be accomplished.

"The Arab revolutions which have swept the region hold such great promise, but I don't think that you go from a top-down society that often imposed oppressive regulations and punishments on people for expressing themselves to a democracy overnight," she said.

"And so when you look at the trajectory, this will take some time, and there has to be a combination of persistence and patience, and I would hope that the opposition demonstrators are demonstrating because they want to participate in the political process, not to derail it," Clinton added.

Clinton told a group of Arab youths from Beirut that "part of our problem is that there are elements within the countries, certainly in North Africa, who don't believe in democracy and who don't believe in equal rights for women and men, who don't believe that there can be cooperation among people who have different points of view. That has to be overcome."