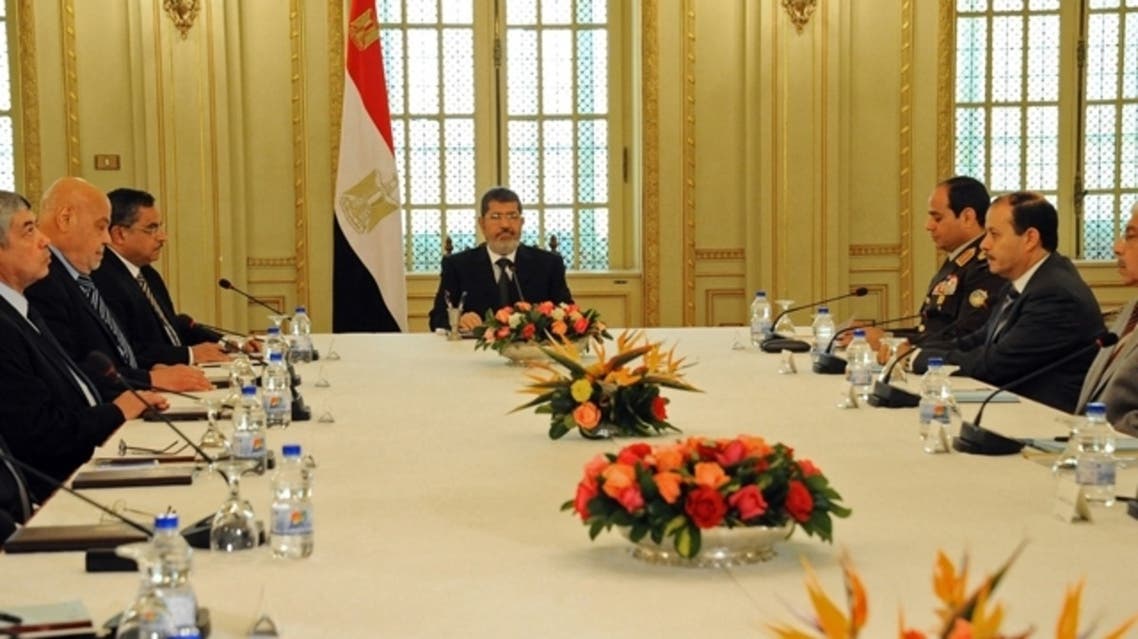 Legislative 'terror rooms', violations of freedom of speech during Mursi's reign
Expanding criminalization and exaggerating penalties that restrict freedoms in the Penal Law
The principles of the Supreme Constitutional Court have set rules and restrictions which are imposed by criminal law upon personal freedoms and freedom of expression.
For example:
1- The implementation of restrictions imposed by criminal laws upon personal freedoms should be subjected to its constitutional legitimacy.
2- The penal code should not carry several meanings; nor should it be bound by several interpretations.
3- Freedom of expression should not be confined to limits that would not allow its' practice, either by imposing prior restraint upon publishing or which relates to the penalty that aims at suppressing it.
4- The legitimacy of the punishment depends on: "That the penalty should be proportionate with actions that the legislator sees as inappropriate or prohibits and limits practicing it, and the principle of punishment is its reasonableness.
5- The constructive nature of criticism in the constitution is not aimed at letting the executive authorities monitor opposing opinions to determine which ones of them is objective.
6- This constructive nature does not absolutely mean monitoring every statement in the press and analyzing it outside of its context according to strict standards. As what an individual can see right in a specific part, can be extremely wrong according to others.

A Statement concerning freedom of speech and expression crimes which are penalized by limitations on freedom in the Egyptian legislation
The following terms are to be used meaning one of the below in the field of criminalizing of freedom of speech and expression:
Publishing – broadcasting – promoting – approving – propaganda
Article 171 of the Penal Law:
This article has been modified by which "tempting" has been replaced by "inciting" according to article 4 of Law No. 147 of 2006 by modifying some of the provisions of the penal code (imprisonment in publishing and opinion crimes)
Anyone who incites one person or more to commit a crime or a misdemeanor, whether by saying, shouting out-loud, acting, gesturing openly or by any other means that he or she has made public; is considered a collaborator and is punished accordingly if this incitement has actually caused the crime or misdemeanor.
If this incitement has only caused an attempt at crime, the judge shall apply legal rulings pertaining to this matter.
The new Egyptian constitution, which was drafted only by Islamists, does not acknowledge international agreements of human rights signed by Egypt. This constitution only mentioned human rights in one statement timidly in article 6, which means it does not consider it a recognized reference that complements the constitution. This is considered a serious indicator of the setback in the situation of human rights and the issuing of laws which squander rights.
Monitoring violations of freedom of expression in Egypt
First: Targeting journalists by murder or intimidation
1- Deliberate murder of al-Husseini Abu Deif, a cameraman at al-Fajr newspaper, on Dec 5, 2012.

2- Armed militias shooting Mohammad Azzouz, an editor in al-Jomhouria newspaper, on Dec 5, 2012.
3- Four journalists were shot at by rubber bullets while covering protests near the Presidential Palace on Dec 5, 2012.
4- On Dec 5, 2012, Abdel Jaleel Sharnoubi, former editor in chief of the Ikhwan Online website, faced an assassination attempt.
Assaulting Journalists and Media Crew
1- Journalist Khalid Salah and presenter Hasan Foudah were assaulted on August 22, 2012 by protesters.
2- On Nov 27, 2012 Ali Ahmad Jouma'a was assaulted during violent clashes in front of the American Embassy, which resulted in severe injuries.
3- Saeed Shouaib and his wife Islam Azzam received life-endangering threats on Nov 7, 2012.
4- On Sept. 13, 2012, security forces beat Rafi Shaker, a cameraman of al-Shorouk, severely and held him for a while.

Second: Tracking journalists and media crew with politically-motivated legal notices
1- Presidential subpoenas on Dec 7, 2012 against several journalists and media men, including Khalid Salah, Ola Shafii, Abdel Halim Qendeel, Majdi al-Jallad, Yaser Ruzq, and accusing Mahmoud Sa'ad of insulting the president.
2- Tracking journalist Adel Hammoudah, editor in chief of al-Fajr newspaper and Editor Khalid Hanafi legally in case No. 1693 of 2012.
3- Accusing journalist Islam Afifi of insulting the president and inciting sectarian sedition and social disorder.
4- Accusing Abdel Halim Qendeel, editor in chief of Sawt al-Omma newspaper, of insulting the president, spreading false news, causing sedition and disorder, terrifying people, and threatening social peace in case No. 8213 of 2012.

Third: Censorship and banning articles from being published
1- On Nov 23, 2012, Jalal Aref was banned from writing for al-Akhbar newspaper.
2- On Dec 11, 2012, novelist Yousef al-Qaeed's article "No Submission, no obedience" which criticized the Muslim Brotherhood was not allowed to get published in al-Akhbar newspaper.
3- On Oct 10, 2012, the al-Akhbar's editorial management banned an article of Abla Rweini from being published after she refused to delete "Muslim Brotherhood" and "Brotherhoodization of the Press" from it.
4- On Dec 9, 2012, the weekly article of al-Akhbar's Ibrahim Abdel Majid was banned.
Fourth: Denying the implementation of legal rulings issued for journalists' benefit
A legal verdict forcing the Shura Council to repost Jamal Abdel Rahim as editor in chief of al-Jomhouria newspaper was denied from being implemented.

Fifth: Enforcing policies of intimidation against media crew
1- On Dec 3, 2012, Mo'ataz Demerdash was threatened of being beaten and banned from practicing his daily job as presenter on al-Hayat news channel by protesters besieging Cairo Media City.
2- On Dec 3, 2012, both Bouthaina Kamel and Hala Fahmi were subject to investigations and banned from work and from entering the Maspero television building because of accusations pertaining to their political opinions at work.
3- On January 1, 2012, Khairi Ramadan refused to continue working because of "pressures" by "certain parties" that would not allow him to host renowned opposition figure Hamdeen Sabbahi.
4- On Dec 7, 2012, Yousef Housseini was deliberately assaulted while he was leaving his job at ONTV channel.
Sixth: Confiscation and Cancellation
1- On August 21, 2012, a complete issue of al-Sha'ab al-Jadid newspaper was confiscated.
2- On August 11, 2012, and after only a few hours of printing, parts of issue No. 1781 of al-Dostour newspaper were confiscated.
3- On August 9, 2012, the investment authority issued a decision to close al-Fara'een channel for 45 days. It is still closed to date.