Hundreds of people were killed and injured when Iraqi security forces stormed a Sunni Muslim anti-government protest camp near Kirkuk on Tuesday, starting a gun battle between troops and protesters, an Al Arabiya correspondent reported.
An army helicopter was involved when forces stormed the camp.
Iraq's defense ministry had no official death toll and said troops responded after coming under fire from gunmen in the makeshift camp in a public square in Hawija, near Kirkuk, 170 km (100 miles) north of the capital.

Protest leaders said they were unarmed when security forces opened fire during the early morning raid.
Info graphic: Violence erupts in Iraq's Kirkuk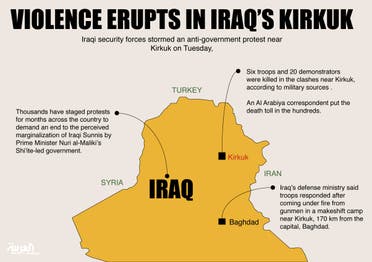 Demonstrators and local officials gave conflicting accounts of the number of casualties but at least three military sources said six troops and 20 demonstrators were killed in the clashes, according to Reuters.
An Al Arabiya correspondent at the scene put the toll at much higher, saying hundreds had been killed and injured.

Thousands of Sunni Muslims have staged regular protests for months in several Iraqi provinces to demand an end to perceived marginalization of their sect by Prime Minister Nuri al-Maliki's Shi'ite-led government.

Many Sunnis say they have been sidelined since the U.S.-led 2003 invasion that ousted Sunni strongman Saddam Hussein and allowed the Shi'ite majority to gain power through elections.
Later on Tuesday, thirteen gunmen died carrying out revenge attacks on army checkpoints in north Iraq on Tuesday after, top army officers told AFP news agency.

The gunmen were killed in attacks on checkpoints in the Al-Rashad and Al-Riyadh areas of Kirkuk province, the officers said.