The rise of fuel prices in Sudan is aimed at saving the country from an economic meltdown, President Omar al-Bashir said Tuesday, in his first comments since deadly unrest broke out last week.
"The latest economic measures aim at preventing the collapse of the economy following the increase in inflation and instability in the exchange rate," Bashir was quoted as saying by the official SUNA news agency, Agence France-Presse reported.

In an address to a graduating class of military and state security officers, Bashir spoke of "conspiracies" against the country, SUNA said.
Infographic: Sudan fuel hikes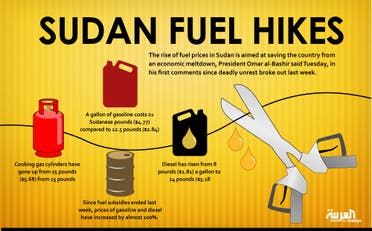 The government scrapped fuel subsidies in September driving the prices to rise by more than 60 percent.
Protests, which were sparked by the cuts, are calling on the government and Bashir to resign.
Around 700 people have been arrested during violent protests in central Sudan, the government said on Monday.
Authorities say 33 people have died over the past week but opposition sources and international human rights groups say at least 50 people have been killed since the unrest began on Thursday.

Information Minister Ahmed Bilal Osman said on Sunday that the government will not retract its decision to scrap the subsidies.
The decision came after a series of measures to stabilize the Sudanese economy which has been plagued by inflation and a weakening currency since South Sudan separated in 2011, taking with it most of Sudan's oil production.

Bashir said the economy has suffered a "negative impact" from the separation of the South and the loss of oil revenue, according to AFP.

(With AFP)