Arab celebrities react to Mandela's death through social media
Diva singer Haifa Wahbe said true legends such as the South African hero are "never really gone, just elevated."
The announcement of the loss of the iconic figure Nelson Mandela triggered a social media surge with nearly 7.2 million tweets alone across the world commemorating the former South African Leader, Twitter said.
The Arab world was no exception to the media frenzy.
The announcement, made on Dec. 5 by South Africa's President Jazob Zuma, led to an outpour of Twitter and Facebook posts by prominent female Arab entertainers.
On Twitter, many Arab musicians and actresses sent their condolences via the site after the news was released.
On her personal account, Lebanese singer Elissa described Mandela as "the founding father of democracy."
The star wrote: "Nelson Mandela...a name...a legacy … may you rest in peace!!"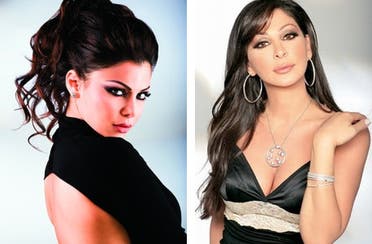 Haifa Wahbe, like many other public figures including Emirati artist Ahlam and Tunisian actress Hend Sabri also took to Twitter to mourn Mendela's loss.
Wahbe articulated that true legends such as the South African hero are "never really gone, just elevated."
Other Arab entertainers paid tribute to the anti-apartheid emblem on Facebook.
Arab Icon Nancy Ajram posted on her Facebook wall, "Real leaders must be ready to sacrifice all for the freedom of their people," hashtagging RIP and Nelson Mandella.
Carole Samaha, a musician and an actress, called Mandela "irreplaceable."
The prominent Arab women were also joined by international celebrities Rihanna, Kim Kardashian, and Lady Gaga in conveying their reactions to the loss of the 95 year old revolutionary via social media.
Shortly after the news of Nelson Rolihlahla Mandela's passing, tributes and speeches started streaming in from around the world.
U.S. President Barack Obama was the first leader to pay solemn tribute to South Africa's first black president.
Former South African President Nelson Mandela died peacefully at his Johannesburg home after a prolonged lung infection. He is expected to be buried in his home village of Qunu.