Bouteflika wins 4th term as Algerian president
The 77-year-old Abdelaziz Bouteflika received 81.53 percent of votes, the interior ministry said
Algerian President Abdelaziz Bouteflika, who has been in power for 15 years and is confined to a wheelchair, has won a fourth term with 81.53 percent of the vote, Interior Minister Tayeb Belaiz announced on Friday.

Bouteflika's closest rival Ali Benflis, who came second with 12.18 percent of votes cast, refused to recognize the incumbent's re-election.

"I do not recognize the result... [because] recognizing it would be complicit in fraud," Benflis told a news conference after being declared runner-up with 12.18 percent of the vote.
The 69-year-old former prime minister, who had already cited "serious irregularities" on polling day, condemned what he called "an alliance between fraud, suspicious money and the bought media."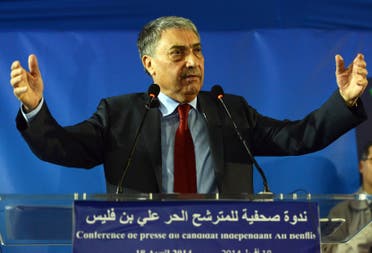 The interior minister said that voter turnout stood at 51.3 percent, highlighting the "free and fair" electoral process. He said some "minor" incidents did not amount to a major issue that could disrupt the elections.
Violence had erupted in the eastern region of Kabyle and several protesters had erupted in the capital Algiers against Bouteflika running for a fourth term.
Bouteflika, 77, had been widely expected to win a fourth term, even though he appeared in public rarely since a stroke last year. Opposition parties boycotted the vote or denounced Thursday's election as a fraud.
His chief opponent, Benflis, already criticized the election as marked by "fraud on a massive scale" after polls closed Thursday.
The results came after a three-week election campaign that saw a spirited effort by Benflis and his supporters. He has vowed to contest the results.

Since suffering from a stroke last year, there have been concerns about the president's ability to the country, which is a key energy supplier for Europe.
Six opposition parties boycotted Thursday's vote, saying it would not reform a system mostly closed to change since the FLN's one-party rule in the early post-independence years.
Bouteflika did not campaign himself, but loyalists praise him for guiding Algeria out of a 1990s war with Islamists that killed 200,000 people. The conflict left many Algerians wary of the turmoil that has swept neighbouring Tunisia, Egypt and Libya since their "Arab Spring" revolts in 2011.
Shocking image
Many Algerians say aging FLN leaders, business magnates and army generals - known as "Le Pouvoir" or "The Power," in French - have long managed politics in behind-the-scenes negotiations and see themselves as guardians of stability.
Bouteflika in the past had said it was time for his generation to step aside, but his appearance in a wheelchair at a polling station was a striking image for many Algerians.
"It came as a shock to see a man sitting in a wheelchair to vote while seeking to run a large country for five years. It's not good for the image of Algeria," said Mohamed, a 26-year-old university student.
Some Algerians point to the 1980s when the FLN opened up one-party rule to opposition and brought an Islamist party close to election victory. The FLN suspended the vote, and the country slipped into more than a decade of war.
Riots and protests are common among younger Algerians frustrated over joblessness, economic opportunities and housing shortages. But widescale anti-government protests are rare in Algeria.
A small movement, called Barakat or "Enough" in local dialect, emerged after Bouteflika's re-election bid to call for peaceful change, though its numbers were limited.
With around $200 billion in foreign reserves from energy sales, the Algerian government spent heavily in 2011 on subsidies, cheap credits and housing to calm rioting over food prices.
Analysts say that after years of state-controlled policies, the OPEC member state needs reforms to open up its economy to more foreign investment and attract more big oil operators to revive its stagnant energy production.
[With AFP and Reuters]