Sisi, Sabahi start campaigning for Egypt's election
Egypt's only two candidates, retired army chief Sisi and leftist Sabahi used Twitter as key tool to garner votes to win presidency
Egypt's only two presidential candidates began their election campaigns on Saturday after blasts hit the country the day before, leaving at least four people killed.
In the May 26-27 election, Abdel-Fattah el-Sisi, the now-retired army chief who led last summer's overthrow of Mursi, appears poised to win on a wave of nationalistic fervor.
Posters by his supporters around Cairo tout Sisi as a strongman in "the fight against terror" - a reference to a wave of Islamic militant attacks that have escalated since the ousted of Islamist President Mohammed Mursi in July last year.
On Saturday, Sisi wrote on his official Twitter account: "I urge Egyptians to work harder, and I call on everyone to bear with the responsibility with me. The country is everyone's responsibility."
Sisi's supporters are using the official hashtag for his campaign, which says "long live Egypt."
The former military man, who goes under the Twitter handle @AlsisiOfficial has about 90 thousand followers on the social media network.
His contender is the leftist Hamdeen Sabahi, who came third in the 2012 elections.
Sabahi wants a 'youthful' Egypt
Sabahi addressed Egyptians Saturday afternoon in a press conference in Asyut, which is considered to be the largest town in Upper Egypt.
He said: "We don't want Egypt to be described as an old, frail country," but "we should have the right to have a youthful, strong state."
The presidential election should be "a way for the revolution to reach the government," he added, promising a whole new economic scheme for people in Upper Egypt to be further connected eastward to the Red Sea through channels.
He also denounced what he said was the continuation of abuses that marked the regime of ousted strongman Hosni Mubarak.
Sabahi, who has about 1.85 followers on Twitter, is campaigning under the hashtag: "we will continue our dream."
On his campaign's official Twitter account, Sabahi promised to boost small businesses, improve people's living standards especially for slum dwellers, and increase minimum wages to 1200 pounds ($171).
Sabahi is so far ahead of Sisi as his election campaign's account on Twitter has more than 101 thousand followers It has @SabahyCampaign as its Twitter handle.
"In order to be free, and for oppression to be lifted, the voice of justice must be the loudest and strongest," one tweet on his campaign's account read.
Unlike Sisi, Sabahi has officially presented his electoral program in a press conference on Wednesday. Sabahi said he would run under the slogan of "social justice, democracy and national independence."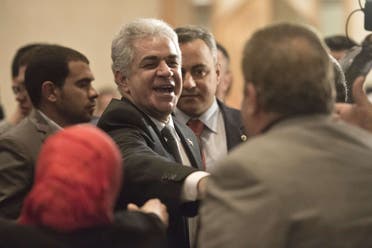 However, Sisi did express some highlights of what he wants to see different in Egypt in recent statements he made.
The state news agency MENA reported on Thursday that Sisi described the country's rising population as one its most pressing problems to representatives of the National Population Council (NPC).
He also spoke about the importance of bolstering Egypt's middle class, and battling corruption.
Meanwhile, there is no sign that the two contenders will debate as sources close to Sisi's campaigners were reported as saying that they reject one-on-one confrontation as they fear to lose votes.
Both Sisi and Sabahi have to face myriad challenges including the current security issues Egypt is facing, which is important to revive the country's tourism sector.
After Mursi's ouster, Egypt witnessed social unrest and risks to its security including blasts in the heart of its capital, Cairo.
Militant groups have said the attacks are in retaliation for the ferocious security crackdown since Mursi's ouster that has killedhundreds of his Islamist supporters and arrested thousands more.
Also, since the 2011 ouster of Mubarak, militants have regularly targeted pipelines in Sinai Peninsula, repeatedly forcing a halt in gas supplies to Israel and Jordan.
On Friday, militants targeted policemen and soldiers in Cairo and the restive Sinai.