UK probes photos of British soldier with dead Taliban fighter
The photographs appear to show at least one member of the RAF giving a thumbs-up sign as he kneels next to the body of a dead insurgent
Britain is investigating photographs that appear to show a serviceman in Afghanistan posing beside a dead Taliban fighter, its ministry of defense said Friday.
"Inappropriate actions will not be tolerated in the armed forces; the RAF [Royal Air Force] is treating this incident extremely seriously and has launched a military police investigation," Agence France-Presse quoted a spokesperson for the defense ministry as saying.

The spokesperson added: "As this incident is subject to an ongoing investigation it would be inappropriate to comment further at this time."
The BBC reported that two members of the Royal Air Force Regiment - the ground-fighting force of the RAF - have been withdrawn from frontline duties while the incident is investigated.
The photographs appear to show at least one member of the RAF giving a thumbs-up sign as he kneels next to the body of a dead insurgent.
It is unclear if it is the same serviceman in both of the photographs.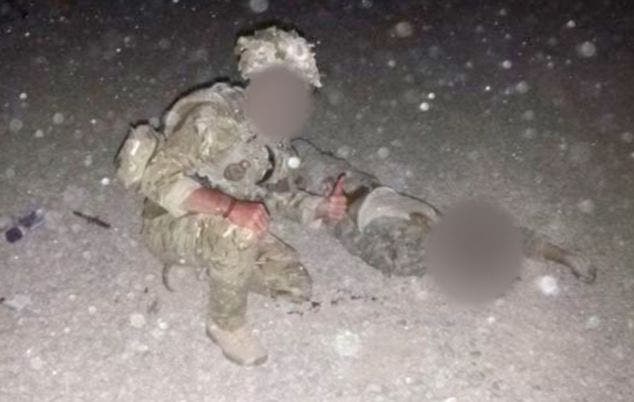 The pictures were allegedly taken in the aftermath of a 2012 attack by the Taliban on Camp Bastion, the main British base in Afghanistan.

The images first appeared on Live Leak, a website sometimes used by servicemen to post photographs taken during tours of duty.

Two U.S. marines were killed and a number of British soldiers were injured in the September 2012 attack on Camp Bastion.

The Guardian described the incident as a "breach of the law of armed conflict," but said "the military hopes it will be seen in context, a young man doing something foolish in the post-battle adrenaline rush."
Another photograph shows a burned-out plane in a hangar. Six U.S. Harriet jets were destroyed in the attack.

(With AFP)