Birth defects reported after chemical attacks in Syria
A Syria-based NGO is currently investigating the cases to identify the cause of the deformities
Allegations are mounting that chemical weapons attacks in Syria last year have caused newborns to suffer from birth defects.
Syrian doctors and activists have circulated a picture of a severely deformed baby girl, reportedly named Fatima Abdulghafar, who was recently born in Damascus, but soon died.
Nidhal Shikhani, an activist, said medical staff in Damascus had said that the reason for the baby's deformities was due to chemical attacks that struck the eastern suburb of Ghouta in August last year, killing hundreds of people.
After the attack and a U.N. investigation, a Security Council resolution demanded that Syria dismantle its chemical arsenal.
The doctors also showed a picture of another four-month-old baby named Joud, who was born with no left foot and a missing fingertip and toe.
Joud's mother - pregnant with her at the time - inhaled poisonous gas after Homs was struck with chemical weapons in July last year.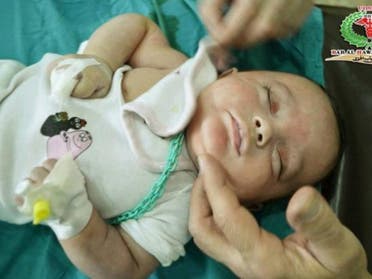 A Syria-based NGO, the Violations Documentation Center in Syria, told Al Arabiya News that it is currently probing the cases.
"We are still gathering information to identify the cause of these deformities and whether it is caused by chemical weapons or not," a statement said.
Rose Gottemoeller, U.S. Undersecretary of State for arms control and international security, said on Friday that Syria has moved about 92 percent of its chemical weapons stocks to port for shipment out of the country.
Gottemoeller added that the rest are at a single site near Damascus.