Checkpoint blasts kill 28 in northern Iraq
A suicide bomber detonated an explosives-rigged truck at a police checkpoint in northern Iraq
A roadside bomb followed by a suicide bomber detonating an explosives-rigged truck at a police checkpoint in northern Iraq killed 28 people Monday, while four people died in other attacks.

Militants have launched major operations in five different provinces in recent days, killing scores of people and highlighting both their long reach and the weakness of Iraq's security forces.

Iraq is suffering its worst violence in years, and with none of the myriad problems that contribute to the heightened unrest headed for quick resolutions, the bloodshed is likely to continue unabated.
Infographic: Twin bombings in Iraq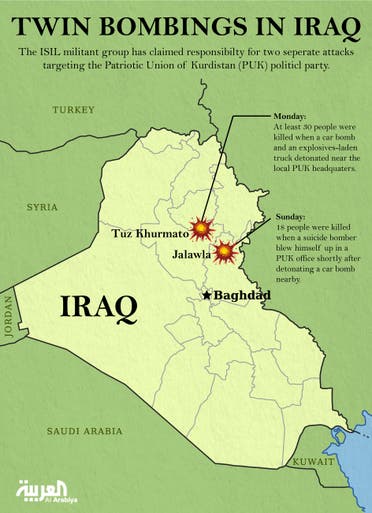 Local official Shallal Abdul Baban said the blasts at the police checkpoint in Tuz Khurmatu killed 28 people, wounded 148 and caused "great destruction."

The checkpoint that was targeted was near an office of President Jalal Talabani's Patriotic Union of Kurdistan (PUK) party.

Another suicide car bombing struck an army checkpoint south of the city of Baquba on Monday, killing two soldiers and wounding five, while two more people died in attacks in Baghdad, officials said.

The violence came a day after a car bomb followed by a suicide bombing near a PUK office and a Kurdish intelligence building in Jalawla, another northern town, killed 18 people.

Powerful jihadist group the Islamic State of Iraq and the Levant claimed the Jalawla attack in a statement posted on Twitter, and said it was carried out by two suicide bombers, one Egyptian and an Iraqi Kurd.

And violence elsewhere in Iraq killed 13 more people on Sunday.

Jihadists have in the past five days launched a series of major operations that have killed dozens of people.

On Saturday, militants took hundreds of hostages at Anbar University in Ramadi, west of Baghdad, the last of whom were freed in an assault by security forces that sparked hours of fighting.

And a series of blasts in Baghdad on Saturday night killed at least 25 people.

In Mosul, heavy fighting broke out on Friday and continued into the following day. The clashes, combined with other attacks in the surrounding Nineveh province, killed more than 100 people.

And on Thursday, militants travelling in dozens of vehicles, some mounted with anti-aircraft guns, attacked the city of Samarra, north of Baghdad, and occupied multiple areas.

They were only dislodged after heavy house-to-house fighting and helicopter strikes.

Violence is running at its highest levels since 2006-2007, when tens of thousands were killed in sectarian conflict between Iraq's Shiite majority and Sunni Arab minority.

More than 900 people were killed last month, according to figures separately compiled by the United Nations and the government.

So far this year, more than 4,600 people have been killed, according to AFP figures.

Officials blame external factors for the rising bloodshed, particularly the civil war in neighboring Syria.

But analysts say widespread Sunni Arab anger with the Shiite-led government has also been a major factor.