ISIS fires Aleppo 'emir' for threatening man
The ISIS member was filmed threatening an elderly man with a weapon for lacking knowledge about Islam
Militant organization the Islamic State of Iraq and Syria (ISIS) has asked one its leaders in Aleppo to step down after footage of him threatening an elderly man came to light, according to a Twitter post by an account linked with the organization.
Scroll down to see the video.
The ISIS member was filmed threatening an elderly man with a weapon for lacking knowledge about Islam.
Abu Bakr al-Masri, the ISIS "emir" of the city of Jarabulus in the northern Syrian province of Aleppo, is seen waving and pointing a handgun at an elderly man who repeatedly fails to answer a series of questions about Islam.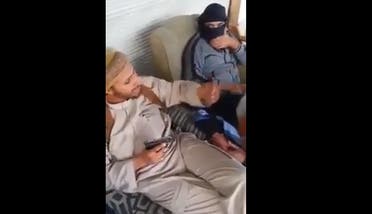 "Do you know the Prophet [Mohammad]?" al-Masri, who is sat on a cushioned chair, asks the old man.
"No," responds the old man, who is seen clasping his hands while sitting close to the militant.
"Do you at least know the name of the prophet," al-Masri asks.
"Really, I do not," the old man says, adding, "teach me."
Al-Masri continues to probe the old man's religious knowledge, asking him about "Judgment Day," Muslim prophets and angels, to which the old man always responds with "I don't know."
The ISIS member is seen grinning to some of the old man's answers, which also spark laughter among spectators who are not visible in the video.
"You don't know the Prophet [Mohammad]," said al-Masri, counting the list of items the man failed to answer, says, before reaching for a pistol beside him.
The old man, distressed at the sight of the weapon, lowers his head and starts to kiss al-Masri's hand and legs.
"You don't know the Prophet [Mohammad], nor Judgment Day, nor the angels," al-Masri said, addressing the old man in an aggressive tone of voice with a gun in his hand.
"Nobody taught me these things," the old man responds.
"Forty years and you never learned these," al-Masri says, before slapping the old man on his forehead.
The man jumos to his feet, but al-Masri orders him to "sit down."
"When are you going to learn these things?" al-Masri asks.
"You can teach me," the old man responds.
"I teach you?" al-Masri asks.
"I will teach you everything right now," al-Masri, who begins to load his firearm, says.
The video ends just at the point where the old man reaches for the weapon, pleading with al-Masri to "please stop, stop."
According to a Twitter post, ISIS asked al-Masri to leave the organization following the incident.