U.S. 'profoundly troubled' by American's beating in Israeli custody
U.S. 'strongly condemn(s) any excessive use of force,' in the wake of Tariq Khdeir's case
The United States said Saturday it was "profoundly concerned" over reports that a U.S. citizen detained in Israel was "severely beaten" while in police custody, amid heightened tensions with Palestinians, Agence France-Presse reported.

State Department spokeswoman Jen Psaki said the United States "strongly condemn(s) any excessive use of force," in the wake of Tariq Khdeir's case.
"We are calling for a speedy, transparent and credible investigation and full accountability for any excessive use of force," she added in a statement.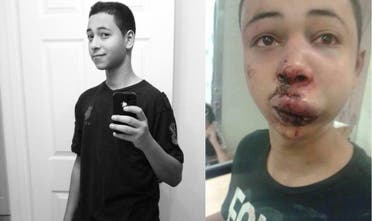 Tariq Khdeir is cousin of the Palestinian teen Mohammed Abu Khdeir, whose abduction and murder sparked three days of violent protests.
Relatives told The Associated Press that Mohammed's 15-year-old cousin Tariq, a U.S. citizen who goes to school in Florida, was beaten by police during clashes on Thursday ahead of the funeral. The U.S. Consulate had no immediate comment on the report.

The Florida chapter of the Council on American-Islamic Relations called on the U.S. Department of State to demand that Israel immediately release Khdeir.

His parents, Suha and Salah, said Tariq was detained but had been treated at an Israeli hospital. They released photos showing his face swollen and badly bruised.

Samri, the Israeli police spokeswoman, said that Tariq Abu Khdeir had resisted arrest and attacked police officers. He was detained with a slingshot in his possession used to hurl stones at police, along with six other protesters, including some armed with knives, she said, adding that several officers were hurt in that specific protest, one of many that day.

Tariq's father said he witnessed his son's arrest and insisted the boy was not involved in the violence.

Amateur video of what he said was the beating aired on a local television station, and he said he could recognize his son from his clothing.
(With AFP and Associated Press)