Hamas wants Hezbollah, Iran to join Israel fight
Hamas called on Hezbollah to engage Israel from south Lebanon, which borders Israel
The Palestinian Islamist movement Hamas urged the Lebanese Shiite group Hezbollah and Iran on Wednesday to join its fight against Israel as the Palestinian death toll from the 23-day assault on Gaza rose to at least 1,323 lives, mostly civilians.
Infographic: Gaza fatalities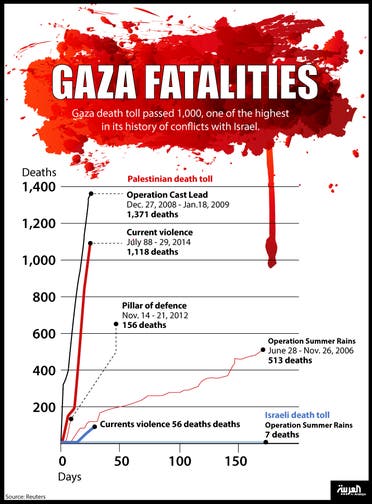 "We hope the Lebanese front will open and together we will fight against this formation [Israel]," Mousa Abu Marzouk, deputy head of Hamas' political bureau, told Russian news agency RIA Novosti.
Abu Marzouk called on Hezbollah, which is fighting on behalf of President Bashar al-Assad against Syrian rebels in Syria, to engage Israel from south Lebanon, which borders Israel.
"There's no arguing that the Lebanese resistance could mean a lot," the Cairo-based Hamas official said.
In a speech last week, Hezbollah leader Sayyed Hasan Nasrallah vowed his group would support the resistance in Gaza.
In the interview with the Russian news agency, Abu Marzouk also expressed gratitude to both Qatar and Turkey for their diplomatic and economic support to the Hamas-controlled Gaza.
U.S. Secretary of State John Kerry's mediation efforts for a ceasefire have been facilitated by Egypt, Turkey, Qatar and the U.S.-backed administration of Palestinian President Mahmoud Abbas in the occupied West Bank.
On Wednesday, an Israeli delegation arrived in Cairo to discuss with Egyptian officials a possible ceasefire in the Gaza Strip, Agence France-Presse quoted airport officials as saying.
Cairo was also expected to host a Palestinian delegation later this week.
Hamas has rejected a ceasefire, conditioning any truce to the lifting of the blockade on Gaza. Israel, for its part, says one of its key objectives in the offensive is to destroy tunnels used by militants in Gaza which it says pose a threat to its security.
The Cairo airport officials did not identify the two-member Israeli delegation, but said they were scheduled to depart after a visit of several hours, in which they would discuss proposals for a truce.
(With AFP)