ISIS militants seize wheat from state silos
Director General of the Grain Board of Iraq said ISIS tried to sell wheat stolen from Nineveh back to the government in other provinces
A top Iraqi government grains official said on Wednesday that Islamic State of Iraq and Syria (ISIS) militants are taking wheat from state silos in northern and western Iraq, in order to mill it there and in neighboring Syria.

Hassan Ibrahim, Director General of the Grain Board of Iraq, the Trade Ministry body responsible for procuring Iraq's wheat internationally and from local farmers, told Reuters the militants had seized wheat in recent weeks from government silos in the provinces of Nineveh and Anbar.
Infographic: Iraq wheat silos held by Islamic State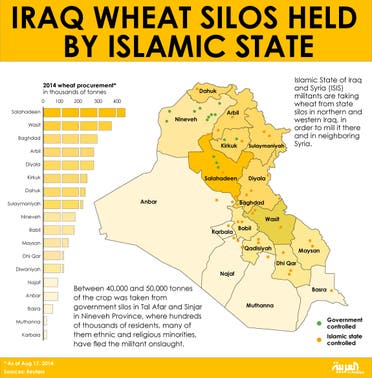 Between 40,000 and 50,000 tonnes of the crop was taken from government silos in Tal Afar and Sinjar in Nineveh Province, where hundreds of thousands of residents, many of them ethnic and religious minorities, have fled the militant onslaught.

Militants seized a further 700 tonnes from storage sites in the western province of Anbar in the past three weeks and took it across the border into Islamic State-held areas in Syria for milling, he said.

Ibrahim said militants tried to sell wheat stolen from Nineveh back to the government in other provinces.

"For this reason I stopped purchasing wheat from farmers last Thursday," he added.

Iraq's grain board normally stops farmer purchases from the annual harvest at the end of August.