PM: Istanbul suicide bomber was ISIS militant
An attack on Istanbul's tourist heart on Tuesday killed 10 people and wounded 15 others
The Istanbul suicide bombing that left 10 people dead, mostly Germans, was carried out by a militant from the Islamic State of Iraq and Syria (ISIS) extremist group, Prime Minister Ahmet Davutoglu said on Tuesday.
"We have determined that the perpetrator of the attack is a foreigner who is a member of Daesh," Davutoglu said in Ankara, using an Arabic acronym for ISIS.
Germany's foreign minister says eight Germans are among the dead in an Istanbul bombing and nine others are wounded, some seriously.
A Turkish official had earlier said that nine Germans had died. The reason for the discrepancy was not immediately clear.
Meanwhile, President Recep Tayyip Erdogan had earlier confirmed the bomber was a Syrian.
"I strongly condemn the terror attack which was carried out by a suicide bomber of Syrian origin," Erdogan said in a speech in Ankara in his first reaction to the blast.
"Unfortunately... there are fatalities, including locals and foreigners. This incident showed again we have to stand together in the face of terror."
"Turkey's determined position will not change. We don't make any difference between the names or abbreviations (of terror groups)."
"The first target of all the terror groups active in this region is Turkey. Because Turkey fights them all with the same determination," he added.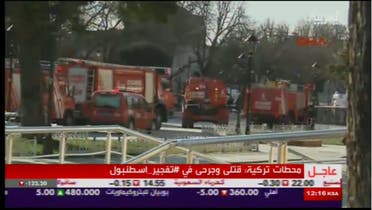 Turkey has been on high alert after a series of attacks blamed on ISIS including a double suicide bombing in the capital Ankara in October that left 103 people dead. Turkish authorities have in recent weeks detained several suspected ISIS members with officials saying they were planning attacks in Istanbul.
But Turkey is also waging an all-out assault on the outlawed Kurdistan Workers' Party (PKK) which Ankara and its Western allies classify as a terror group.
A Kurdish splinter group, the the Freedom Falcons of Kurdistan (TAK) claimed a mortar attack on Istanbul's second international airport on December 23 which killed a female cleaner and damaged several planes
Meanwhile the banned ultra-left Revolutionary People's Liberation Party-Front (DHKP-C) has also staged a string of usually small-scale attacks in Istanbul over the last months.
German, Norwegian tourists
Turkey's CNN Turk television said that foreign tourists from Germany and Norway are among those wounded in the central Istanbul explosion.
An official from one tour company who declined to be identified told Reuters that a tourist group from Germany was in the area at the time of the blast, but it was unclear whether any of them had been hurt.
Investigations were being conducted into the type of explosive which caused the blast and those responsible, the governor's office statement said.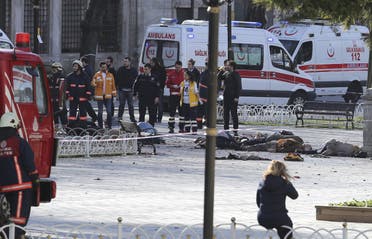 A witness and police officer at the central Istanbul Sultanahmet square, a major tourist attraction, reported seeing body parts after the blast, Reuters news agency reported.
Eyewitnesses told Al Arabiya News the explosion was so loud and strong that it was heard from several kilometers away, and many tourists were left in shock. The blast caused a one-meter-deep crater, according to the media reports.
Turkish police sealed off the square as ambulances rushed to the scene of the explosion.
Sultanahmet square, close to the Blue Mosque and Hagia Sophia, in a major tourist area of Turkey's most populous city.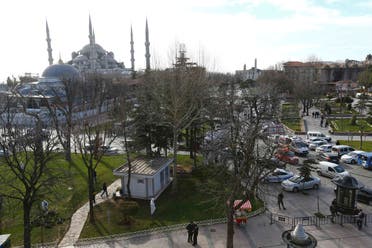 According to the initial unconfirmed reports from state-run television TRT based on eyewitnesses, the explosion was allegedly caused by a suicide bomber. Police forces have reportedly found mechanical parts in the area that further confirm the use of suicide bomber tactics.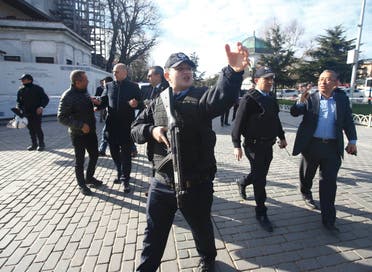 Yesterday, Turkish police arrested 3 suspects in Diyarbakir, connected to ISIS, claiming that they were about to launch an attack in southeastern province of Diyarbakir.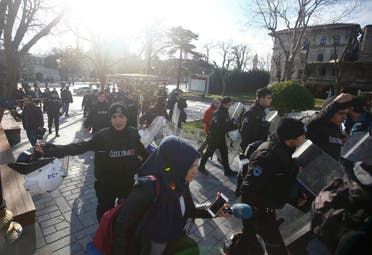 Also, two suspected ISIS militants, who were plotting attacks on New Year's Eve in capital city of Ankara were also arrested on Dec. 30 with their explosive devices and belts.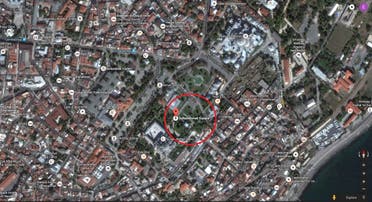 The blast could be devastating for the Turkish tourism sector that has already been suffering from the Russian sanctions and rising security threats. Last year, over 12 million tourists visited the city, but if the instability continues, the number is expected to decrease.
Turkey on edge
The blast came after a slew of deadly attacks across Turkey in past months that has left Turkey's largest city on edge.
The force of the blast was sufficient to be heard in adjacent neighborhoods, witnesses told Agence France-Presse.
In reaction, Russia's foreign minister said that Tuesday's deadly bomb attack confirms the need for countries to urgently join forces to battle terrorism.
U.N. Secretary-General Ban Ki-moon on Tuesday condemned a suicide bomb attack in Istanbul, calling it a "despicable crime" and said the perpetrators must face justice.
Additional reporting Menekse Tokyay in Istanbul

(With AFP and Reuters)