Bahrain's interior minister has accused Lebanese Hezbollah militias of supporting terror groups and at least 19 plots against public figures in the Gulf island kingdom in the past year.
Interior Minister Sheikh Rashid bin Abdullah al-Khalifa said on Sunday that as a result, 47 people were charged with links to terrorism, including plots to assassinate public figures.
"The cells are run by individuals in Iran who coordinate with the Iranian Revolutionary Guards, the Popular Mobilization Militias in Iraq and the Hezbollah in Lebanon to train terrorists. This fact has been highlighted in the past and continues to be highlighted," al-Khalifa said at a press conference on Sunday.
Bahraini police have also transferred the cases of 290 wanted persons and suspects to the public prosecutor's office.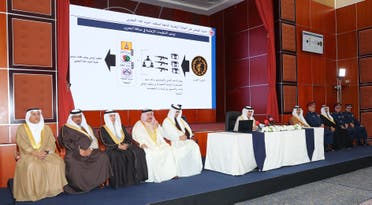 Most of the 47 people arrested on Sunday were part of the Saraya al-Ashtar, Saraya Al Muqawama Al Sha'biya and Saraya al-Mukhtar militia groups.
In the past year, Bahrain's security apparatus carried out 105 security missions, including search of 42 sites and warehouses. A total of 290 fugitives and suspects were referred to the Public Prosecution and a quantity of weapons, equipment and explosives seized. Bahrain's Public Prosecutor's office told Al Arabiya English they will release the details of its investigations at a later date.
"Our security mission does not end with the uncovering of a terror group and the arrest of lawbreakers. Ours is a comprehensive mission which aims to achieve security and stability across the country, and to have a comprehensive security viewpoint to understand the main reasons and motives that have a bearing on the general security situation," al-Khalifa said.