Hundreds of people in the disputed border region of Abyei voted Sunday in a referendum that they hope will decide whether they join Sudan or South Sudan, a local leader said, but the exercise lacked the official backing of either of the governments.

The exercise was proceeding peacefully Sunday, said Luka Biong, spokesman for the Abyei Referendum High Committee, a civic group that is organizing the vote. He said the results of the three-day vote will be announced on Oct. 31.

"This reminds me of what happened in January 2011 when the people of South Sudan voted for their independence," he said. "This was a special moment, a historic moment. This was like crowning the history of the struggle of the people of Abyei. I saw my people so determined."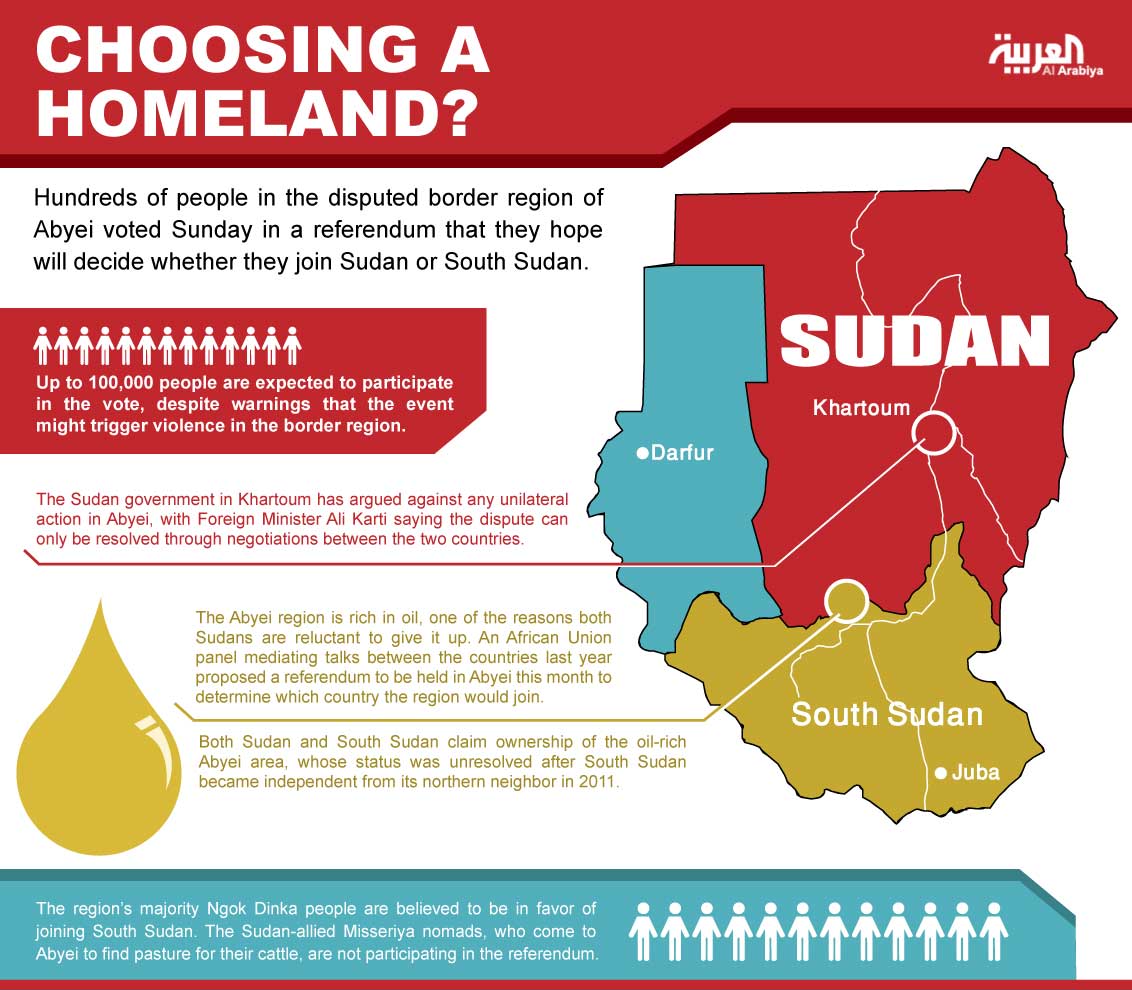 Both Sudan and South Sudan claim ownership of the oil-rich Abyei area, whose status was unresolved after South Sudan became independent from its northern neighbor in 2011.

The region's majority Ngok Dinka people are believed to be in favor of joining South Sudan. The Sudan-allied Misseriya nomads, who come to Abyei to find pasture for their cattle, are not participating in the referendum.

The voting was "going on very smoothly" across Abyei, confirmed Zacharia Deng Majok, a member of the Abyei Referendum High Committee.

"People are in a jovial mood here," he said. "The morale of the people is very high because they know they are making a choice for their future."

Up to 100,000 people are expected to participate in the vote despite warnings that the event might trigger violence in the border region. The African Union had warned against holding a referendum, saying such action could increase the risk of violence between the Ngok Dinka and the Misseriya. The Misseriya have warned that a referendum in which they are not participants should not take place.

The Abyei region is rich in oil, one of the reasons both Sudans are reluctant to give it up. An African Union panel mediating talks between the countries last year proposed a referendum to be held in Abyei this month to determine which country the region would join.
The AU proposal said only the permanent residents of Abyei would be allowed to vote in the referendum. That proposal was rejected by Sudan, which says the nomadic Misseriya people - who spend up to six months each year in the Abyei area - should be eligible to vote.

The Sudan government in Khartoum has argued against any unilateral action in Abyei, with Foreign Minister Ali Karti saying the dispute can only be resolved through negotiations between the two countries.