South Sudan clashes spread outside capital
Rival groups supporting President Salva Kiir or former Vice President Riek Machar are involved in the deadly clashes
At least 400 people have died and 800 were left wounded in clashes between opposing army factions in South Sudan, a top U.N. official told the U.N. Security Council on Tuesday, as there were reports that clashes had spread outside the capital.
Rival groups supporting President Salva Kiir or former Vice President and wanted opposition leader Riek Machar have been involved in the deadly clashes.
Armed groups attacked the defense ministry building in Juba on Monday, an attack which was contained by security forces.
Described as a "coup attempt" by Kiir, the president had announced the government was in full control of the security situation in Juba, despite the deaths continuing to mount.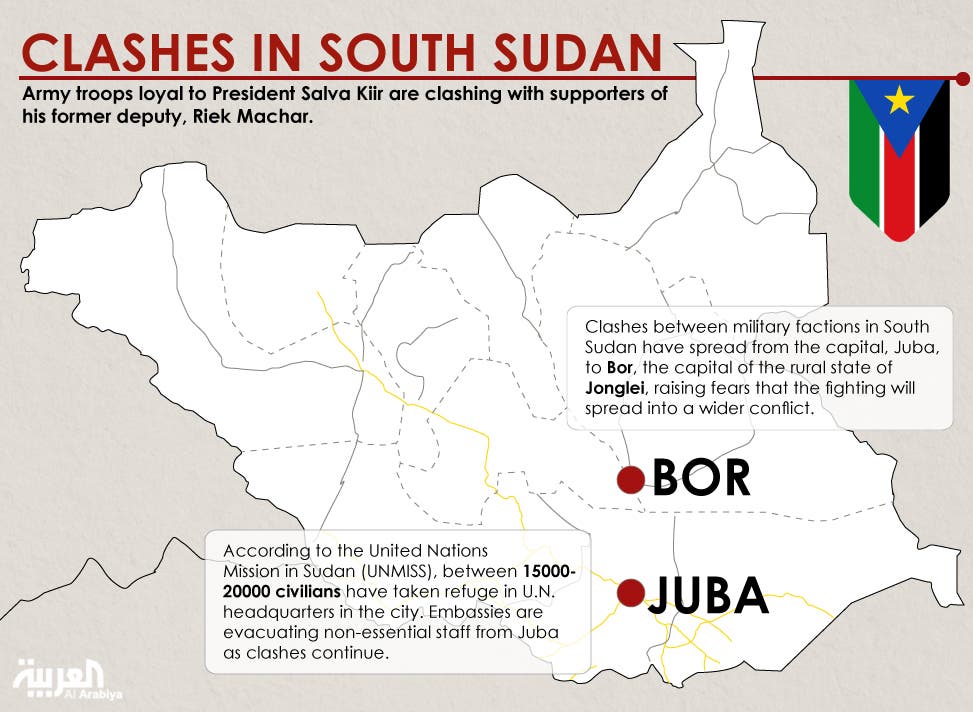 On Wednesday, Machar denied government accusations he tried to stage a coup, saying the president was using the claim as an excuse to purge political rivals.
The president sacked Machar in July and political tensions have simmered since then in the oil producing nation.

"What took place in Juba was a misunderstanding between presidential guards within their division, it was not a coup attempt," Machar told the Paris-based Sudan Tribune news website, in his first public comments since fighting broke out on Sunday.
Local hospitals informed the U.N. that 400 to 500 people have been killed since Sunday, U.N. peacekeeping chief Herve Ladsous told the council, according to diplomats who attended a private briefing with him.
Clashes have also been reported near the flashpoint town of Bor, the capital to the rural state of Jonglei, in fighting that has spread from the capital, raising fears of a broader civil conflict in the two-year-old nation.

An official in Bor, north of Juba, told Reuters news agency soldiers attacked each other at two military barracks and one journalist said troops loyal to Machar now controlled them, suggesting violence was increasingly running along ethnic lines.
Between 15,000 and 20,000 people sought refuge in U.N. compounds around Juba, sources quoted Ladsous as saying.
According to Ladsous, the U.N. was not able to verify the toll provided by two hospitals in the capital.
Despite the inability to confirm the number of dead, "there is a heavy toll, it is obvious," Security Council president Gerard Araud, France's U.N. ambassador, said after the emergency consultations.
According to Araud, there was fighting that appeared to be on ethnic lines reported in Jonglei state outside the capital. Jonglei has a history of clashes between rival ethnic groups, reported Agence France-Presse.
The Security Council expressed "serious concern" over the fighting that caused "large numbers of casualties, as well as over the risk of targeted violence against certain communities," said the council in a statement.
It called on both rivaling groups to "immediately cease hostilities."
U.N. leader Ban Ki-Moon urged Kiir to offer dialogue with the opposition. He also spoke the president of neighboring Uganda, Yoweri Musseveni, about South Sudan's unrest.
The Security Council also said that Kiir should talk to the opposition. The council's meeting was called following a request by the United States.
The U.S. ordered has ordered all non-essential diplomatic staff out of South Sudan.
(With AFP and Reuters)