Armed groups 'close in' on South Sudan town
The United Nations reports armed groups close to Bor, capital of Jonglei state
The United Nations on Sunday reported armed groups close to a key town in South Sudan amid battles between supporters of the country's president and vice president.

A U.N. surveillance aircraft spotted the groups 50 kilometers from Bor, capital of Jonglei state, which has become a focus of a power struggle between President Salva Kiir and former vice president Riek Machar.

More than 1,000 people have died since fighting between the two erupted on December 15, and a UN statement said the number of people who have taken refuge in its bases around the country has grown to 75,000.
Infographic: South Sudan unrest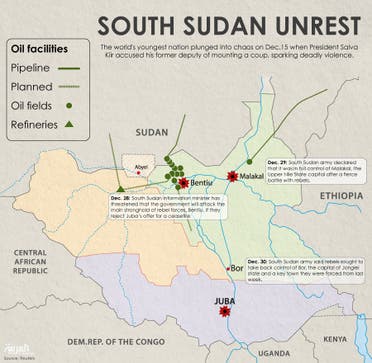 Fears of heightened conflict have grown amid reports an army of Machar's youth followers was gathering around Bor.

The U.N. Mission in South Sudan (UNMISS) has been tracking reports of the armed groups' movements but cannot confirm the size or location of Machar's followers, said the U.N. statement.

"UNMISS today conducted aerial reconnaissance and reports that they have identified some armed groups approximately 50 kilometers northeast of Bor," said the statement.

However, it did not say who the groups were.

UNMISS chief Hilde Johnson, who is to brief the U.N. Security Council on Monday on the South Sudan crisis, has been seeking to persuade political and community leaders to head off the advance on Bor, the statement added.

The U.N. says the number displaced by the conflict has grown to 180,000 people and up to 75,000 have sought refuge in UNMISS bases in Juba, Bor, Bentiu, Malakal and Pariang.

There have been battles between Kiir and Machar forces for control of Bentiu and Malakal which are in key oil regions.

The U.N. said that Bentiu, the main city in Unity state, was "calm but tense" but it added that "there have been reports of heavy fighting in Mayom town" which is just west of Bentiu.