Kenya airstrike kills 30 Somali militants
Kenya's Defense Force targeted the al-Qaeda inspired group al-Shabaab's camp in Somalia
At least 30 al-Qaeda-inspired militants, including top commanders, were killed in a Kenyan airstrike on their training camp in Somalia, Agence France-Presse reported the Kenyan military as saying Friday.
"KDF (Kenya Defense Force) fighter jets attacked the Shabaab camp, where a meeting was being held," AFP quoted a senior KDF official as saying.

He added: "Initial battle damage assessment indicates more than 30 Shabaab militants killed, including key commanders."
The airstrike, which took place Thursday evening, wounded dozens of other militants in the Shabaab camp.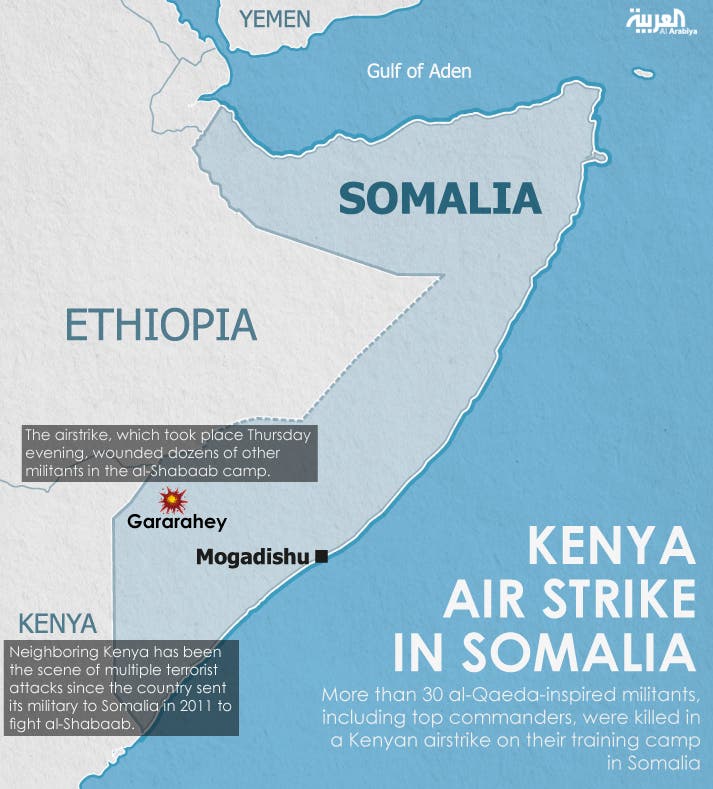 The camp is situated in Garbarahey in Gedo region, around 600 kilometers northwest of the Somali capital Mogadishu and near the border with Kenya and Ethiopia, according to the Kenyan military.
Meanwhile, another military official said the Kenyan armed forces were trying to reveal the identities of those killed in the raid, adding "they are definitely big shots in the militant group's hierarchy."
He added that that five vehicles and other "key assets" were destroyed in the raid.

In early January, al-Shabaab boasted about its carrying out of a hotel bombing in Mogadishu that killed 11, saying it was the start of its campaign for the New Year.
Neighboring Kenya has been the scene of multiple terrorist attacks since the country sent its military to Somalia in 2011 to fight al-Shabaab.
In September, the group claimed responsibility for an attack on the Westgate Mall in Nairobi that killed 67 people. Al-Shabaab said it was in retribution for Kenya's involvement in Somalia.
Despite al-Shabaab's threats against Kenya, the Kenyan President Uhuru Kenyatta has vowed to maintain the country's military presence in Somalia.

"Let them (al-Shebaab) know that we will not relent on the war," he said last year.
"Our forces will remain in Somalia until such time when we are satisfied that there is peace."
(With AFP)