Fighting breaks out in South Sudan capital
U.N. official calls on the warring parties to come to a 'real ceasefire for the months of March, April and May'
Clashes erupted at a military barracks in the South Sudan capital on Wednesday, with the sound of heavy gunfire heard coming from the site near Juba University, according to Agence France-Presse.
The conflict in South Sudan started in the capital Juba nearly three months ago amid tensions within the ruling party of President Salva Kiir and former vice president Riek Machar, but quickly spread across the country.

The unrest in South Sudan, the world's newest nation, has left thousands dead and has displaced close to 900,000 people, including tens of thousands who have crammed into U.N. bases in fear of ethnic attacks.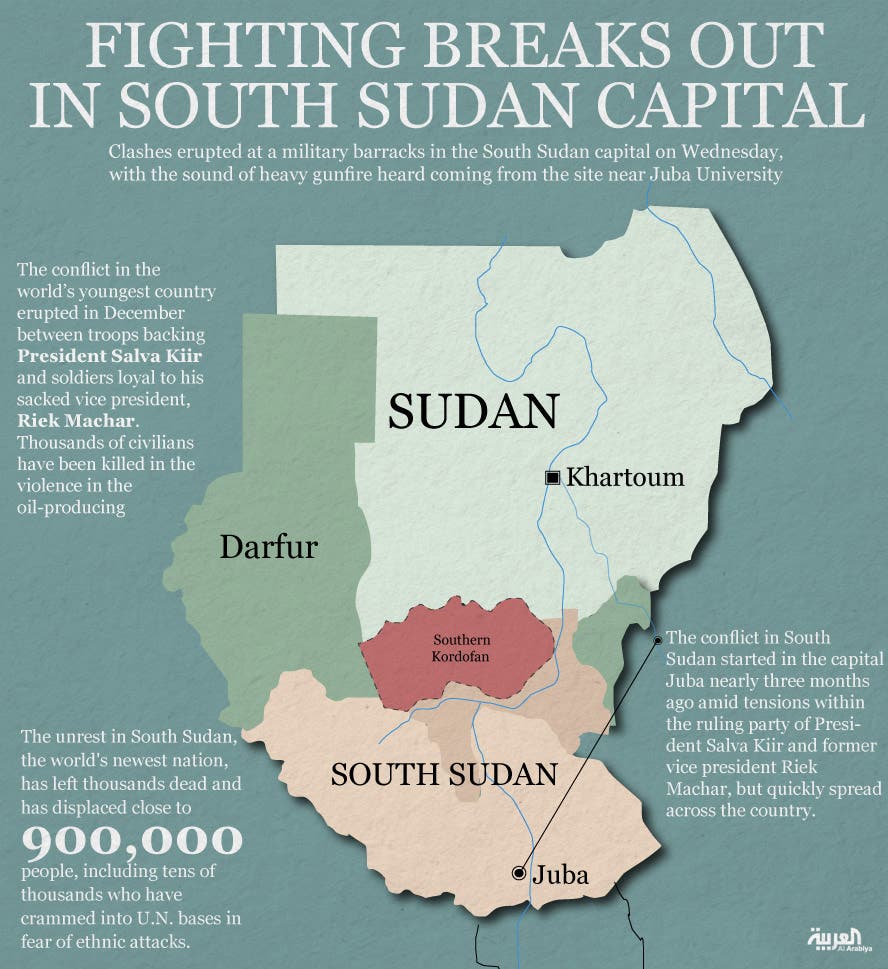 Meanwhile, the humanitarian coordinator for the United Nations in South Sudan said on Tuesday warned that if the fighting in South Sudan prevents people from planting crops over the next three months, the country will be headed towards a humanitarian disaster, according to Reuters news agency.

"Right now what the people of South Sudan, what the civilians need most, is the ability to move their cattle, tend to their fields and plant," Toby Lanzer, the deputy U.N. special representative and humanitarian coordinator for South Sudan said.
"And if they do, then the people of South Sudan can do an awful lot to help themselves weather this abominable situation," he said.

"But if they can't, if violence continues - and there's a high risk of that in some of the key states, which are the most food insecure and which are the most prone to flooding - then the outlook for the humanitarian situation is very dire," Lanzer added.
For this reason, he called on the warring parties to come to a "real ceasefire for the months of March, April and May," according to Reuters.
Speaking to the United Nations' 193 member states, Lanzer said that at one point in the conflict, the United Nations was sheltering 85,000 people, though that number has dropped to around 75,000. Most of those people are crammed into four UNMISS bases in cramped, difficult conditions.
The conflict in the world's youngest country erupted in December between troops backing President Salva Kiir and soldiers loyal to his sacked vice president, Riek Machar. Thousands of civilians have been killed in the violence in the oil-producing nation.

Although the warring parties agreed to a cessation of hostilities on Jan. 23, fighting has continued in parts of South Sudan.
(With Reuters and AFP)