Libya PM says resignation 'out of the question'
EXCLUSIVE INTERVIEW: Ali Zeidan spoke as armed rebels tightened their grip over some oil terminals in the country
Libyan Prime Minister Ali Zeidan told Al Arabiya News Channel on Sunday that his resignation is "out of the question" due to the violent struggle for security in the country.
"For the time being, [a resignation] is unlikely… not for love of the post, but because the current status of the country does not allow it," Zeidan said, adding that if he got the chance to resign without putting the country at risk, he would certainly do so.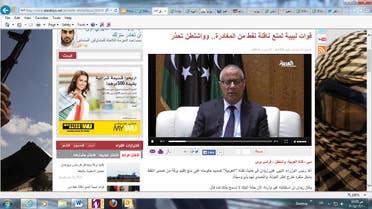 "Some blocs in the national congress are attempting to withdraw confidence from the government," added Zeidan. The top official said he preferred that they succeed, rather than have him submit his resignation "during these critical circumstances."
In recent months, there have been reports suggesting Zeidan would soon announce his departure from politics.
Anti-government armed rebels have gained control over some oil terminals in the country, and are attempting to start trading to gain lucrative oil revenues. The move has fumed the interim government which labeled the acts of rebels as "piracy."
Despite various threatens, the government has lingered the use of force to clamp down on the rebels up till now.
"We've received pleads from a variety of notables, social figures, and members of the General National Congress, so we deferred the use force to preserve the safety of oil installations," Zeidan said, warning that since rebels have come this far, measures will be taken against them.
Libya's navy on Monday made a move to stop am oil-loaded North Korean ship from leaving a rebel-held port, as the defense ministry deployed an air force to "deal with the tanker," Libya's official news agency (LANA). The United States accused separatist
The U.S. accused Libyan separatists of theft after they loaded the "Morning Glory" tanker for the second consecutive day, warning that buyers would face liabilities and sanctions, AFP reported.
"The United States is deeply concerned by reports that a vessel sailing under the name 'Morning Glory' is loading a cargo of illicitly obtained oil at the Libyan port of As-Sidra," State Department spokeswoman Jen Psaki said in a statement.
The separatists, former rebels who have turned against Libya's interim government, have been blocking oil terminals which they've been entrusted in guarding, in an attempt to seek sovereignty and share oil revenues.
The armed anti-government protesters threatened that any attack on the tanker would be "a declaration of war," adding to the tense status of the country.
(With AFP)