Boko Haram leader says ruling Nigerian town by Islamic law
The Nigerian military was quoted in local press as denying that Boko Haram was in control of the town
The leader of Nigeria's Islamist group Boko Haram said his fighters were now ruling the captured northeastern town of Gwoza "by Islamic law", in the first video to state a territorial claim in more than five years of violent insurrection.
The Nigerian military was quoted in local press as denying that Boko Haram was in control of the town, although security sources and some witnesses said police and military there had been pushed out.
Abubakar Shekau's videoed speeches, often as chilling for a rambling incoherence as for any message they contain, have become a regular feature of the militant leader's bid to project himself as public enemy number one in Africa's biggest economy.
His forces have killed thousands since launching an uprising in 2009, and are seen as the biggest security threat to the continent's leading energy producer.
In the latest one released through his network late on Sunday, the militant who says he is fighting to create an Islamic state in Nigeria, said his forces were now in control of the hilly border town of Gwoza, near the frontier with Cameroon, after more than a week of fighting there.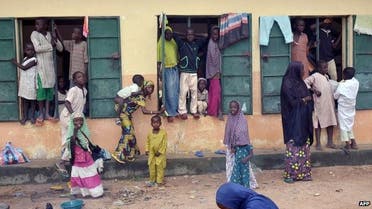 "Allah has granted us success in Gwoza because we have risen to do Allah's work," Shekau says, reading out a statement off a notebook, with two masked gunmen on each side of him and three four wheel drive vehicles behind him in thinly forested bush.
"Allah commands us to rule Gwoza by Islamic law. In fact, he commands us to rule the rest of the world, not only Nigeria, and now we have started."
Nigerian authorities did not immediately respond to a request for comment. Local newspaper ThisDay quoted Major-General Chris Olukolade as saying the claim Boko Haram controls Gwoza was "false and empty".
The video includes footage of the attack on Gwoza, which appears to show hundreds of jihadists mounting what is alleged to be an attack on Gwoza, backed by armoured personal carriers and pick-up trucks with mounted machine guns.
They unload salvos of gunfire all over the town from trucks and on foot. The fighters are all armed with AK-47s or rocket propelled grenades, some in military uniform, others in civilian clothes. Many of them walk casually as they take over the town.
They also fire into the hills at what appear to be fleeing security forces and civilians, and they help themselves to weapons and ammunition seized from security forces. It ends with scenes of executing captives in pre-dug mass graves, some of them beaten to death with spades.
Ever since Sunni jihadists in Syria and Iraq declared the area they control "Islamic state" in June, the appeal of making territorial claims by Islamist groups has been enhanced.
Police spokesman Emmanuel Ojukwu said on Sunday that 35 policemen were missing after an attack on a mobile police training camp in Gwoza.