Secular Essebsi leads Tunisia presidential vote, heads for run-off
Secular Nidaa Tounes leader Beji Caid Essebsi is the frontrunner, followed by incumbent Moncef Marzouki
Beji Caid Essebsi, leader of Tunisia's secular Nidaa Tounes party and a veteran politician, will be facing off incumbent interim President Mohammed Moncef Marzouki in a runoff election scheduled to take place at the end of December, official results showed on Tuesday.
Essebsi, who turns 88 this week, garnered 39.46 percent, followed by Marzouki, with 33.43 percent, announced Mohammed Shafik Sarsar, head of the election authority during a press conference.
A candidate can only win in the first round if they secure an absolute majority of 51 percent.
"The results were not surprising," political analyst Noureddine Mbarki told Al Arabiya News, adding that opinion polls had already highlighted a "roadmap for the results," which was confirmed by the election authority's (ISIE) preliminary results today.
Nidaa Tounes was the winner in last month's parliamentary elections with 85 seats of a 217-seat parliament, followed by the Islamist Ennahda party which secured 69 seats.
What's next?
Although Essebsi is the frontrunner, with just a 6 percent difference between the two leading candidates, it remains difficult to predict "who is going to make it to Carthage," said journalist and political analyst Kamel Smari, referring to the presidential palace in Carthage, Tunis.
Additionally, there are a "significant number" of citizens who did not participate in the election, Smari said.
The number of registered voters exceeded 5 million, but only about 3.2 million turned out at the voting polls.
Both candidates will now try hard to woo the remaining people who did not vote, Smari said.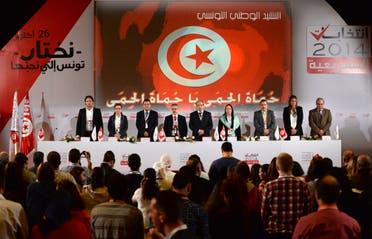 But that is not the only challenge faced by the two rival parties, according to Mbarki.
"It is not going to be a typical electoral campaign whereby the candidates discuss their political programs," Mbarki said.
Essebsi and Marzouki are going to focus on gaining the endorsement of the other political parties, thus the votes of their bases, he added.
Without an outright majority, a victorious Nidaa Tounes will need to form a coalition with other political parties in order to form a new government - something that could affect the runoff.
"Whoever masters the political maneuvering will gain most of the votes," Mbarki said.
Although Ennahda did not field or endorse any presidential candidate, most of its base reportedly voted for Marzouki, who based his campaign on anti-old regime platform.
Essebsi, who is a veteran statesman who worked under the regimes of Habib Bourguiba and Zine al-Abidine Ben Ali, formed Nidaa Tounes in 2012 as an alternative force to Ennahda.
Essebsi's bringing together of leftist politicians, elites, businessmen, and figures of the old regime quickly gained popularity among Tunisians, which analysts say has led to the widening of the ideological divide that marked the post-revolution Tunisian political scene and society.
"The parliamentary elections [in October] highlighted this political polarization already," Mbarki added.
Free and fair election
The European Union observer mission hailed the election as fair and credible with only "minor" irregularities, reported Agence France Presse.
"On Sunday, the Tunisian people renewed their commitment to democracy ... in pluralist and transparent elections," said the mission's chief, Annemie Neyts-Uytterbroeck.
"The exercise of freedom of expression and assembly was guaranteed," she added.

The landmark presidential election marks the final stepping stone toward the completion of almost a 4-year transitional period toward democracy, after mass protests in 2011 led to the ouster of long-time President Ben Ali.
Since then, despite a rocky democratic transition, Tunisians have adopted a new constitution and avoided the armed turmoil that has plagued neighboring "Arab Spring" countries.