Gunmen kidnap U.S. woman in central Nigeria: Police
Foreign nationals have often been kidnapped in Nigeria by local gangs who typically release hostages following a ransom payment
Masked gunmen in central Nigeria kidnapped an American woman doing missionary work, with ransom the suspected motive for the attack, police told AFP Tuesday.
"She was whisked away at around 10:00 am (0900 GMT) Monday," said Kogi state police spokesman Sola Collins Adebayo.
He said the attack took place in the Emiworo village where the missionary from the Free Methodist Church ran a community organisation within the premises of a school linked to her church.
The kidnappers were "unknown gunmen...(who) came into the school premises shooting sporadically to scare away people before taking (the hostage) away into the bush", Adebayo said.
"We are hopeful of finding her. Our suspicion is that she was picked up for ransom," the police spokesman said, identifying the hostage as between 65 and 70 years old.
A statement on the Free Methodist Church's website contained similar details.
"The U.S. Embassy has been notified, and the State Department and the FBI are working with local authorities to find and rescue her," the statement attributed to Bishop David Kendall said.
Foreign nationals have often been kidnapped in Nigeria by local gangs who typically release hostages following a ransom payment.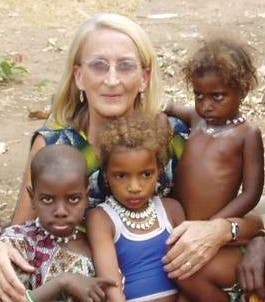 Such abductions are especially common in the southern, oil-producing Niger Delta, where expatriates working with large oil companies have been a frequent target.
A number of foreigners have also been kidnapped in the north of the country, but those attacks claimed by Boko Haram or the linked Islamist group Ansaru are considered a different phenomenon, and not necessarily motivated by a desire for ransom.
A number of people seized by Nigerian Islamists have been killed by their captors, while others have died during botched rescue operations.
Boko Haram has been blamed for previous attacks in Kogi, including two raids targeting the same prison in 2012 and 2014.
But there was no indication that the Islamists were responsible for the missionary's abduction.