Security tightened as Tunisia hosts Jewish pilgrimage
The extra security follows the March 18 attack on the Bardo Museum in Tunis, claimed by ISIS
The Jewish pilgrimage to Ghriba synagogue on the Tunisian island of Djerba is to take place Wednesday under extra security after the Bardo museum massacre and Israel's warning of terror threats.

Hundreds are expected to take part, unlike the thousands who flocked to Africa's oldest synagogue for the annual pilgrimage in the years before a 2002 suicide bombing claimed by Al-Qaeda that cost 21 lives.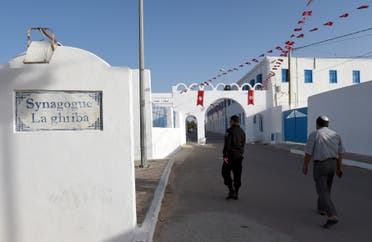 Barriers have been erected on access routes to Djerba in southern Tunisia and police checkpoints around Hara Kbira, the Jewish district of the island, an AFP journalist said.

The extra security follows the March 18 attack on the Bardo Museum in Tunis, claimed by the Islamic State of Iraqi and Syria (ISIS) group, that killed 21 foreign tourists and a Tunisian policeman.

Apart from Tunisian pilgrims, some 500 others are expected in Djerba for the two-day religious festival from France, Israel, Italy and Britain, according to the organizers.

Israeli Prime Minister Benjamin Netanyahu said on Saturday that his country had learned of "concrete threats" of terror attacks against Jewish or Israeli targets in the North African country, prompting a quick denial from Tunis.

At a news conference on Tuesday, Interior Minister Najem Gharsalli said the warning was unfounded and accused Israel of trying to "damage the reputation of Tunisia."

And during a visit to Djerba two days earlier, he insisted: "Tunisia is a safe country and Djerba too is a safe city. Visitors from the world over are welcome.

"What I am saying now is a response to many who cast doubt over Tunisia's security and its capacity to secure celebrations."

Pilgrims visit the tombs of famous rabbis for the Lag BaOmer Jewish festival, including on Djerba island, where one of the last Jewish communities in the Arab world still lives.

According to legend, the Ghriba synagogue was founded in 586 BC by Jews fleeing the destruction of the Temple of Solomon in Jerusalem.

Tunisian Jews now number around 1,500, compared with an estimated 100,000 when the country gained independence from France in 1956.

Tunisian authorities have been struggling to reassure foreign visitors they will be safe in the wake of the Bardo killings, which have hit its key tourism sector that accounts for seven percent of the country's GDP.

Tourism was already suffering from the fallout of Tunisia's 2011 revolution.